CHOC Children's Celebrates Completion of Mental Health Inpatient Center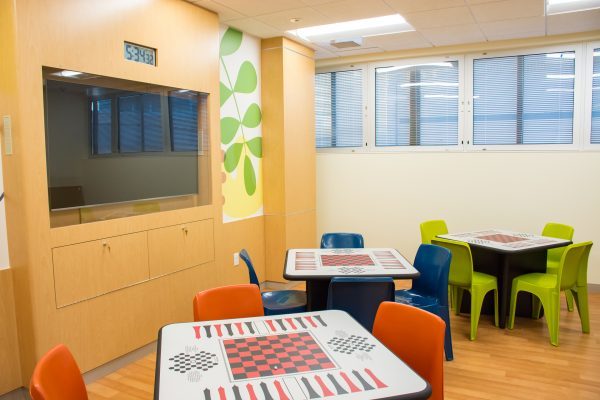 (ORANGE, Calif., March 27, 2018) – CHOC Children's leaders joined with mental health supporters today to celebrate the completion of the pediatric health care system's Mental Health Inpatient Center, an innovative facility that fills a gap in a long-fragmented system that left children younger than 12 with no inpatient services in Orange County.
Set to open in April, the 12,000-square foot, 18-bed facility will be the only one in Orange County to treat patients younger than 12. Further, it is the only facility in California to offer all private rooms, as well as an option for parents to stay overnight with their children, as appropriate.
"For the first time, Orange County children younger than 12 experiencing a mental health crisis will have a place for care close to home," CHOC President and CEO Kimberly Chavalas Cripe said. "The Center's completion is evidence of CHOC's commitment to ensuring that every Orange County youth receives the mental health care services they need in a safe and healing environment."
The Center's other unique features include two sensory rooms – one sensory-rich and the other low-stimulation to help children learn to manage strong emotions and calm themselves. In addition, the facility includes a 3,600-square-foot outdoor play area with sensory activities and basketball court.
The Center's innovative floor plan was designed with guidance from national experts and incorporates elements of several exemplary programs observed by CHOC staff. It was built with two primary goals in mind: patient safety and creating an optimal healing environment. To that end, the facility incorporates safety features such as shatterproof glass, special high-density materials, doors that open one at a time, and many other measures. Meanwhile, the Center's design includes elements of nature, curved features and a soothing color palette to promote healing and relaxation.
With Dr. Hoang "Wayne" D. Nguyen as its medical director, the Center will serve patients ages 3 to 17, with specialty programming available to children 12 and younger. Patients will participate in therapeutic programming seven days a week, which is unique among inpatient facilities. During their stay, typically five to seven days, patients will also have access to medical specialists if assessments suggest a relationship between the mental health condition and an underlying health issue.
CHOC broke ground on the Center, housed on the third floor of its research building, in September 2016. Plans for the Center were announced in May 2015 as the centerpiece of a pediatric system of mental health care that would be scalable and replicable by other health systems nationwide.
"CHOC is committed to the truth that mental health is as important as physical health," Cripe said. "Put simply, health is health. We want to create a system that others can replicate and help empower health systems across the country to support children's mental health."
CHOC's broad and robust pediatric system of mental health care has been built to facilitate early diagnosis, intervention and treatment of pediatric mental health problems.
The system's components include the ASPIRE® (After School Program Interventions and Resiliency Education) Intensive Outpatient Program at CHOC Children's, designed to prevent psychiatric hospitalization and re-admission; mental health screenings in primary and specialty care settings; pediatric mental health training for community health care providers, school personnel and therapists; and a co-occurring clinic for patients with mental health challenges complicated by physical illnesses.
Other aspects include mental health triage at the Julia and George Argyros Emergency Department at CHOC Children's Hospital; an early childhood mental health initiative set to begin in spring 2018 that is aimed at reducing behavior-related suspensions from child care and preschool settings; and faith community partnerships.
"While the Mental Health Inpatient Center at CHOC Children's will support children and families while in crisis, we cannot meet all the needs for pediatric mental health care alone," Cripe said. "By joining with our community partners, we are working together to ensure that children get the help they need when they need it and where they need it."
Indeed, one in five children experience a diagnosable mental health condition during childhood — about 150,000 children in Orange County alone. Previously, the absence of designated space to treat young patients and a shortage of beds for adolescents in Orange County meant that often children with serious mental health episodes remained in emergency departments for days at a time waiting for a bed in an outside county.
The total cost to build the CHOC Children's Mental Health Inpatient Center was $13.2 million, with funding comprised of individual philanthropy, government funding and grants. Lead gifts were provided by children's advocate Sandy Segerstrom Daniels and the From My Heart/Sharon D. Lund Foundation.