From Becker's Hospital Review
Written by Tamara Rosin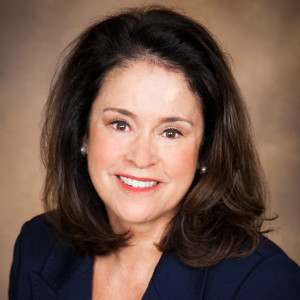 Kimberly Chavalas Cripe was named president and CEO of Children's Hospital of Orange County in Orange, Calif., in 1997. At the time, the hospital was struggling to stay afloat amid massive financial losses.
Determined to not only eliminate losses but invest in new services and infrastructure to improve pediatric healthcare, Ms. Cripe recruited an executive team of the "best and brightest," added nationally renowned experts to its ranks of physician leaders and created multiple centers of excellence.
Ms. Cripe says an unyielding sense of curiosity drives her passion for learning and innovation. Although her healthcare leadership career spans decades, Ms. Cripe says she is constantly looking to the future and seeking ways to improve healthcare for children and adolescents. Most recently, she began leading CHOC in its creation of a system of care for youth with mental illness. As part of this effort to address the regional deficiency of pediatric mental health services, CHOC began construction of its Mental Health Inpatient Center. Set to open next year, the center will provide care for patients 3 to 18 years old.
Ms. Cripe held a variety of roles with Humana before she joined CHOC in 1991 as executive vice president and COO. In addition to her work at the helm of CHOC, Ms. Cripe has served as a commissioner on the Children and Families Commission of Orange County since its inception in 1999, and she was recently appointed to the board of directors of the national Children's Hospital Association.
Here, Ms. Cripe took the time to answer Becker's seven questions.
Note: Responses have been lightly edited for length and clarity.
What's one thing that really piqued your interest in healthcare?
When I entered college I thought I wanted to be a physician. Science was my favorite subject in high school. While at college, I loved everything I studied — I was all over the map trying to figure out at the ripe old age of 18 what to do with the rest of my life. I pursued a biology and medicine track, but I was also interested in the business world. By the time I finished, I found I liked the intersection between medicine and business so I hopped over to the hospital administration side. It was a combination of my natural interests and also the recognition that on the administrative side, you have the ability to impact entire healthcare systems. I wanted to impact public policy and do things on a broader level.
What do you enjoy most about Orange County?
Orange County is a fabulous place to live and raise a family. The weather is amazing, it has a good lifestyle and the population is diverse. It is also very family oriented, which I appreciate since I work in pediatric healthcare. And we have one of the best children's hospitals in the world.
If you could eliminate one of the healthcare industry's problems overnight, which would it be?
I would focus on the disparity of funding and reimbursement for different segments of our population. In particular, I think we need to better recognize and value the health and well-being of our youth. A lot of children have coverage through government programs — Medicaid in particular — but there is inequity in reimbursement between them, especially when you compare Medicaid to Medicare.
What do you consider your greatest talent or skill outside of the C-suite?
I think this applies both inside and outside of the C-suite, but my biggest talent or asset is having an enormous sense of curiosity and drive. I love to learn, innovate, read and find better ways to do things at work and home. I have an ability to look ahead and see a different future, and I'm a good active listener.
How do you revitalize yourself?
I haven't quite mastered the work-life balance, I admit, but I revitalize myself by spending time with my family. I adore my husband and kids, and spending time with them is a great way to rejuvenate and enjoy life. I love the outdoors. Outdoor activities — skiing, waterskiing, hiking, walking, horseback riding — give me a lot of energy. I love the mountains and beaches. I also love to listen to music and read all kinds of books.
I recently reread a few things, such as The Speed of Trust by Stephen Covey. It's amazing you can pick up books — some that have been around for decades — and they are still so relevant. This is especially true for books about the importance of treating people with respect and dignity, understanding other people's perspectives and how we have the power to unify people or polarize them.
What's one piece of advice you remember most clearly?
I remember being told about the importance of hiring a great team and of always trying to hire people who are smarter than you. I learned you can't be intimidated by smart people. It's important to surround yourself with diverse perspectives and know when to listen to other people.
What do you consider your greatest achievement at Children's Hospital of Orange County so far?
I've been in this position for quite some time. When I initially was appointed to my role, we were not in good shape financially. I led a financial turnaround, which positioned us to think about the future differently. On the onset of the recession, we became a fully freestanding children's hospital and opened a beautiful $560 million tower in 2013. Those two factors play a role on a national level in our ability to be leaders in pediatrics.
Another accomplishment I'm proud of: We are reinventing the healthcare delivery system for children and adolescents. In particular, we are spending a lot of time and resources on mental health. There is a serious mental health crisis on a national level, but here in Orange County about one out of five children suffer from a serious mental health condition. As we implement new ways of relating to kids and families, there won't be a division between mental and physical health — they will both be completely embedded in the health system. My biggest passion right now is to more fully embrace mental healthcare.