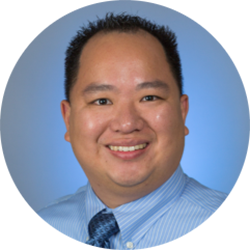 Kent Lee Clinical Nurse Specialist, Emergency Department
linkedin.com/in/kent-lee-a48a029
Kent Lee, DNP, RN, CPEN, Clinical Nurse Specialist, Emergency Department is an inspiring innovator, who likes to see problems as opportunities for improvement.
When did you become interested in innovation and how do you see problems differently?
It goes back to when I first became a nurse at CHOC. I remember attending a nursing conference where they showcased different innovative, med-tech solutions, and I thought, that's what I want to do. I always try to think about problems in light of possible solutions. Hearing about or seeing problems and thinking about ways to solve them is one way that bedside nurses can grow, in addition to learning about different specialty areas and what they are doing. Sometimes, innovation can come out of shared frustration. It is not just seeing a problem but taking the time to think through the challenge. Most problems can be fixed in some way, so it's important to envision different ways to solve them.
How do you apply this to your day-to-day role in the emergency department?
I always ask myself "why" and "how", and this helps me to come up with possible solutions. I've put several ideas in the Innovation Portal on PAWS and have met with Matt Keller and innovation team members to explore my concepts. I really enjoy the interactive process and discussion about my ideas. CHOC has invested in innovation, supporting providers and associates and encouraging new ideas, and I think that's great. I don't think a lot of hospitals have this kind of culture.
What areas of innovation are next for you?
I look at Dr. Chang and Dr. Feaster who are leaders in artificial intelligence at CHOC. I am interested in exploring how AI can be applied in my department and throughout CHOC. It would be interesting to use big data to explore different use cases. It would be amazing to have CHOC host an event around sharing big data and how we can apply AI in innovative ways.