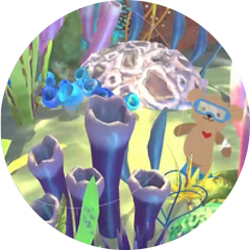 Last year, Mi4 and Eon Reality teamed up with CCMH to create Choco's Sea Adventure, an augmented reality module designed to motivate patients to ambulate. We interviewed Melissa, Paula and Allison about what it was like to take such an active role in developing this solution for their patients and families.
Melissa: CHOC at Mission has always been a unique environment. We're like a small family. Getting to partner with people I have worked with for years on something new and innovative has really opened my eyes to what we are capable of when we put our minds together. We always think of our patients and families first. It is our number one goal. But I really think we raised the bar here in finding a creative and unique way to meet the needs of our patients and support their healing.
Paula: We are excited and getting momentum in the use of the module. It is a total gift to have this at CCMH. We can't wait to present this at conferences on early mobility. We're so proud of Choco's Sea Adventure.
Before you started this project, did you see yourselves as innovators?
Melissa: If I wasn't an innovator before, I sure am now. It was fun to use my role as a child life specialist and all my experience to help design something that could be beneficial to our patients and families. It renewed my passion for what I do and every time I had an opportunity to work on it or talk about it, I look forward to it. It gives me such a sense of pride.
Allison: At first, I didn't think of myself as an innovator. I believe we are individuals who are passionate about providing patient care and getting our patients moving and that drives us towards innovation. We are always working toward improving performance, and we know the importance of early mobility, so it's really exciting when we can come up with something nobody has ever tried before and get to see it all the way through to completion.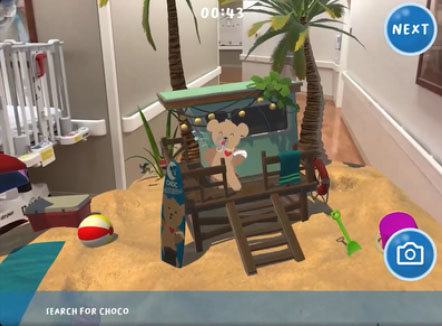 What was the innovation process like?
Melissa: The Mi4 Team was incredibly supportive throughout the whole entire process. I initially didn't know what I was getting myself into, but I was instantly relieved when I met with Mi4 and Eon Reality. They were so encouraging and really allowed us to lead this process. Matt Taylor from Eon was amazing and was there any time I needed him, whether it was just a small fix or questions that we had. Tiffani Ghere had so many ideas as well, and she really understands the role of the child life specialist. She also knows us all personally and how we do things in our unit. She helped keep us organized and on track with the project so we wouldn't get overwhelmed. It was a great experience and we're so excited about the end result. It's even better than we imagined.