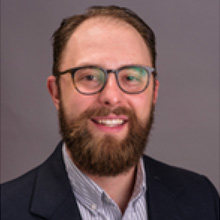 Casey Clay, Ph.D., BCBA-D
Director of Escalating Behavior
Thompson Autism and Neurodevelopmental Center at CHOC
LinkedIn
This month we spoke with CHOC innovator Dr. Casey Clay.
Can you share what it means to you to have an innovative mindset?
As long as I can remember I have tried to figure out ways to solve problems, whether it's mechanically with different objects and tools or behaviorally with individuals. My grandfather grew up on a fruit farm and became a doctoral-level engineer. I loved frequently visiting him and learning from him. He had several different innovations and I enjoyed watching him solve problems creatively and cost-effectively.
One of the most important things he taught me was to never give up. Many of the patients that we care for have challenging behavioral issues. A majority of the time, our therapeutic interventions result in positive behavioral changes, but sometimes we have to try a variety of different interventions. It is important that we do not give up because the patient's future is on the line. If I were to give up or settle for less, their behavior likely won't change. In the culture I grew up in, giving up was not an option.
Can you share an example of an innovative approach that the Thompson Autism Center team has taken?
The Thompson Autism Center had just opened when the COVID pandemic hit. Our newly formed team had to pivot overnight, figuring out how to best care for our patients. Our team ideated on various options for communication, coordination and services, all provided virtually. We had to think about this from the perspective of our patients and families, taking into account challenges with technology as well as how to offer evaluation and therapeutic interventions remotely.
Thanks to our innovative mindset, we were able to successfully deliver services. We pulled together as a team, focusing on each of our areas of expertise to meet the needs of our patients. We kept everyone engaged and focused, and that helped us overcome barriers. The most important thing is to know when it's time to pivot. If something isn't working, you can't continue to deploy the same approach. That's where the mindset of an innovator comes into play.
You're also looking to virtual reality as an innovative tool? Can you share some of your approaches?
This is an area of personal interest for me. I am working on using virtual reality (VR) for staff and caregiver training and skills practice, allowing our team to "level up" in a very efficient way. While this approach, allowing virtual-remote training, was a necessity during COVID, it remains an effective approach by offering "on demand" training, anytime and anywhere. There is a big learning curve in the use of VR and the technology is developing rapidly, making it challenging but also exciting to explore different use cases.
What advice would you give others to support a culture of innovation?
It's important that we make smart decisions, and by that, I mean considering what data we need in order to make better decisions. Innovation won't take you very far without intelligence through data. Also, recognizing that small steps toward innovative approaches are critical. You don't need to make giant leaps. And drawing from as many resources as you can to help spur creativity. The more sources you have, the higher the likelihood that you may start to see something differently.