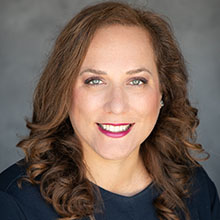 Brittney Anderson, DNP, CPNP, CPHQ, Director of Clinical Quality
This month, Mi4 sat down with CHOC innovator, Brittney Anderson to share her thoughts on innovation at CHOC.
Brittney, how do you view innovation and how do you apply it in your role at CHOC?
I am always asking "why"; why do we do it that way? When someone says, "we've always done it that way", I automatically ask why, because I really want to understand so I can help. My mind goes to a nurse leader mentor who says, "Let me noodle on that", and I love thinking that way when considering how to improve care delivery. To me, improvement is synonymous with change, and through an innovative mindset and asking "why" questions, we can continually improve what we're doing for our patients and for ourselves. If we can do things better, smarter, and more efficient, we can make our jobs even more rewarding.
Why do you believe change is important in healthcare and at CHOC?
As we are treating more complex patients with more varied conditions, we have a lot of opportunities every day to ask the "why" questions. Being open to this approach can improve how we provide care. We always want to make sure we have a solid reason why we are doing what we're doing so we can evolve and innovate. When you come from a positive place in wanting change to make things smarter and faster, others around you feel more comfortable with the "why" questions and ultimately in the change that comes from innovative thinking. It becomes the norm, always asking what's nagging you today and how can we make it better.
You are part of the Mi4 Innovation Team at CHOC. Can you share why being part of the Team is important to you?
I like that the mindsets of all of the team members are different, coming at problems with varied lenses and experiences. We challenge each other's thoughts and ideas in a positive way that opens us up to different approaches to solving problems. I also like that we are bringing together problems and potential solutions throughout the organization, thinking of it as string art, as we are trying to connect everything. Having a diverse group approach to problems, where we dive into the why of things, is inspiring to me. I think it's also important that our Innovation Team focuses on frontline staff, listening, supporting, getting to the root causes of problems and trying to find innovative approaches. We always include the voice of the customer, and many times that voice is from a parent or patient. That is really important as we think about who we are helping. Being part of the Innovation Team also makes me constantly think about different processes and products that can help improve things for our customers, including our staff and our patients. I like being part of a culture of change and helping people have a more positive experience with change through innovation.