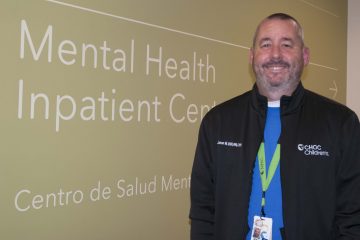 Jason Williams, RN, has devoted his 18-year nursing career to CHOC Children's.  His final rotation in nursing school was at the pediatric healthcare system, which solidified his interest in taking care of children.  Following a year on the medical/surgical floor, Jason transitioned to pre-op and PACU (post anesthesia care unit).  He loved working in both of those areas, and never imagined making a change; never imagined, that is, until he heard of CHOC's plans to open a mental health inpatient center.  Though nervous about exploring a new specialty, Jason's passion to help children and teens in crises overshadowed his own anxiety.  In this Q & A, he shares his nursing journey and offers advice to others who may be considering making a change.
Why did you decide to become a nurse?
Growing up I wanted to be either a firefighter or paramedic.  When I was in my mid-20s, driving an ambulance, I made the decision to take my love of medicine even further and become a nurse.  In nursing school, my last rotation was pediatrics at CHOC.  That's when I discovered I love working with kids.
What do you like best about pediatric nursing?
Kids are innocent. They aren't in the hospital because of poor lifestyle choices.  When they are faced with illnesses or injuries, they are strong and resilient.  They just want to get back to playing and being kids.  Adults can learn a lot from them.
What attracted you to pre-op and PACU?
Honestly, I loved the action of the OR (operating room).  It's a fast-paced environment, where each day is different.  You take care of a variety of patients.  I enjoyed interacting with so many different kids and their families.  I also loved working with an amazing team.  There's a reason there's little turnover in those areas: the great, collaborative group of professionals who are dedicated to helping each other and providing the best care to patients.
When did you start thinking about working as a mental health nurse?
I have always been passionate about mental health.  As a dad of twin boys, I am very aware of the pressures placed on kids today — something my wife and I don't do.  In pre-op, I also started to notice how many patients came in for procedures to explore the cause of stomach pain.  For many, there was no medical cause.  The stomach pain was likely due to high levels of stress and anxiety.
When I learned CHOC was opening a mental health inpatient center, I was on it – waiting to hear more and meet the clinical director.  As soon as the clinical director, Dani, was hired, I met with her.  Dani is an experienced mental health nurse who is very approachable.  She told me what to expect working in the center and what I needed to do to make that happen.  She and her nurse manager, Lisa, really helped nurture and develop me and the rest of their staff.
It must have been nerve-wracking transitioning from a work environment you've loved for nearly two decades.  How did you get past any fears or insecurities?
I was very nervous, and was worried about letting people down. But I talked it through with my wife and with my co-workers in pre-op and PACU.  They were all very supportive and encouraging, as was Dani.  They made me feel confident in my decision.
What advice would you give other nurses who are considering changing units or specialties?
Don't let fear get in the way of pursuing something you are passionate about.  Do your research, including talking to other nurses.  Meet with the directors and managers, and ask questions to understand what "a day in the life" might be, and be honest about your own concerns.
Now that you're working in the mental health inpatient center, how do you like it?
I love it. Best decision I have ever made!  I feel like I am making a big difference in these patients' lives.  When they are first admitted, they are in crises and feel hopeless.  But 5-7 days later (our average length of stay), they have learned coping mechanisms and gained resources, including being linked to outpatient programs.  They leave the inpatient center feeling better and hopeful for the future.