Dr. Wyman Lai, Pediatric Cardiology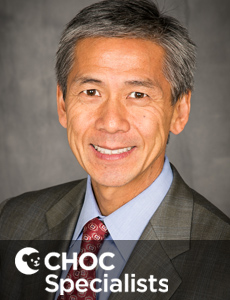 ---
Wyman W. Lai MD

Appointments:
888-770-2462
Office: 714-509-3939
Specialty: Cardiology
Board Certified: Pediatric Cardiology
Dr. Wyman Lai is a leading, internationally recognized pediatric cardiologist who treats the full spectrum of heart conditions at CHOC. He is an expert in the areas of fetal cardiology and non-invasive imaging for heart disease in fetuses and children. Dr. Lai's research interests include the echocardiographic evaluation of complex congenital heart disease, the use of advanced imaging techniques for the assessment of cardiac function, and the potential contribution of artificial intelligence in cardiology.
Dr. Lai serves as assistant division chief of cardiology at CHOC Specialists and Medical Director, Echocardiography. He has served on American Society of Echocardiography (ASE) Board of Directors and currently sits on the National Board of Echocardiography Board of Directors. Dr. Lai is a prolific author who has written over 100 peer-reviewed research publications and many invited reviews and chapters. He is the lead editor of a comprehensive textbook on pediatric echocardiography, and he has lectured extensively in the United States and internationally.
Dr. Lai graduated from the Brown University School of Medicine, the Harvard School of Public Health, and, more recently, the UCI Paul Merage School of Business. He completed training in pediatrics and pediatric cardiology at the UCLA Medical Center, Los Angeles. Dr. Lai underwent advanced training in congenital cardiac MRI at Boston Children's Hospital.
Wyman W. Lai MD is on staff at CHOC Hospital in Orange .
Locations
Outpatient Heart Center
505 South Main Street, Suite 600
Orange, CA 92868
phone: 714-509-3939
CHOC Cardiodiagnostics
1201 West La Veta Avenue
Holmes Tower, 3rd Floor
Orange, CA 92868
phone: 714-509-9200
CHOC Health Center in Corona
854 Magnolia Avenue, Suite 101
Corona, CA 92879
CHOC Health Center in Mission Viejo
26691 Plaza, Suite 130
Mission Viejo, CA 92691
CHOC Health Center in Newport Beach
500 Superior Avenue, Suite 140
Newport Beach, CA 92660
CHOC Health Center at PIH Health
15725 E Whittier Blvd., #300
Whittier, CA 90603
Education
Medical School
Brown University School of Medicine, Providence, Rhode Island
Pediatrics Residency
UCLA Medical Center, Los Angeles, California
Pediatric Cardiology Fellowship
UCLA Medical Center, Los Angeles, California
Pediatric Cardiology MRI Fellowship
Boston Children's Hospital, Boston, Massachusetts
Graduate School
Harvard School of Public Health, Boston, Massachusetts & UCI Paul Merage School of Business, Irvine, California
Administrative Appointments
Medical Director, Echocardiography, CHOC
Assistant Division Chief, Cardiology, CHOC Specialists
Academic Appointments
Clinical Professor, Pediatrics
UC Irvine School of Medicine
Honors and Awards
Castle Connolly Top Doctors, Orange
Southern California Supper Doctors
Best Doctors in America
Presentations
Differentiation of the athlete's heart. Invited Faculty. Sports Cardiology & Sudden Cardiac Arrest in the Young. Anaheim, CA. January 20, 2017
Defining and treating shock in the newborn. Invited Faculty. NeoHeart. San Diego, CA. March 23, 201774. The ductus arteriosus. Invited Faculty. NeoHeart. San Diego, CA. March 23, 2017
Expanding point-of-care echocardiography into the hands of NICU and PICU physicians. Invited Faculty. NeoHeart. San Diego, CA. March 23, 2017
Coronary abnormalities: is echo truly adequate to exclude ALCAPA. Invited Faculty and Session Moderator. American Society of Echocardiography 28th Scientific Sessions. Baltimore, MD. June 4, 2017
Choosing an academic career in pediatric echo. Session Moderator. American Society of Echocardiography 28th Scientific Sessions. Baltimore, MD. June 5, 2017
Ebstein anomaly. Invited Faculty. Tam Duc Heart Hospital. Ho Chi Minh City, Vietnam. March 12, 2018
Neonatal transposition of the great arteries. Invited Faculty. Hanoi Heart Hospital. Hanoi, Vietnam. March 13, 2018
Bench to bedside. Session Moderator. American Society of Echocardiography 29th Scientific Sessions. Nashville, TN. June 25, 2018
Congenital heart disease posters. Session Moderator. NeoHeart. Huntington Beach, CA. March 28, 2019
Artificial intelligence and Has the train left the station too fast? Should we embrace or fear nontraditional use of fetal and pediatric echocardiography?" American Heart Association Scientific Sessions. Philadelphia, PA. November 16, 2019patent ductus arteriosus. AI Cardiology. Chicago, IL. June 17, 2019
Using echocardiography to guide the management of critically sick infants. American Society of Echocardiography Scientific Sessions: A Virtual Experience. June 19, 2021
Artificial intelligence in pediatric cardiology imaging. The 8th Congress of Asian Pacific Pediatric Cardiac Society. Taipei, Taiwan, Virtual. July 18, 2021
Professional Organizations
American College of Cardiology
American Society of Echocardiography
American Academy of Pediatrics
American Heart Association
World Congress of Cardiology
European Society of Cardiology
National Board of Echocardiography
Society of Southern California Pediatric Echocardiography
Publications
Burch PT, Ravishankar C, Newburger JW, Lambert LM, Pemberton VL, Granger S, Floh AA, Anderson JB, Hill GD, Hill KD, Oster ME, Lewis AB, Schumacher KR, Zyblewski SC, Davies RR, Jacobs JP, Lai WW, Minich LL; Pediatric Heart Network Investigators. Assessment of growth 6 years after the Norwood procedure. J Pediatr 2017;180:270-274
Chowdhury D, Gurvitz M, Marelli A, Anderson J, Baker-Smith C, Diab K, Edwards T, Hougen T, Jedeikin R, Johnson, JN, Karpawich P, Lai W, Lu J, Mitchell S, Newburger J, Penny D, Portman M, Satou G, Teitel D, Villafane J, Williams R, Jenkins K on behalf of the American College of Cardiology's Adult Congenital and Pediatric Cardiology Section's Ambulatory Pediatric Cardiology Quality Metrics Working Group. Development of quality metrics in ambulatory pediatric cardiology. J Am Coll Cardiol 2017;69:541-555
Phelps HM, Kelleman MS, McCracken CE, Benavidez OJ, Campbell RM, Douglas PS, Eidem BW, Lai WW, Lopez L, Stern KW, Welch E, Sachdeva R. Application of pediatric appropriate use criteria for initial outpatient evaluation of syncope. Echocardiogr 2017;34:441-445
Sachdeva R, Douglas PS, Kelleman MS, McCracken CE, Lopez L, Stern KW, Eidem BW, Benavidez OJ, Weiner RB, Welch E, Campbell RM, Lai WW. Educational intervention for improving the appropriateness of transthoracic echocardiograms ordered by pediatric cardiologists. Congenit Heart Dis 2017;12:373-381
Nguyen T, Fundora MP, Welch E, Douglas PS, Eidem BW, Campbell RM, Weiner RB, Stern KW, Benavidez OJ, Lai WW, Sachdeva R, Lopez L. Application of the pediatric appropriate use criteria for chest pain. J Pediatr 2017;185:124-128
Kirkpatrick EC, Steltzer J, Simpson P, Pan A, Dragulescu A, Falkensammer CB, Gelehrter S, Lai WW, Levine J, Miller S, Miller TA, Pruetz J, Sachdeva R, Thacker D, Frommelt P. Pulmonary vein Doppler patterns in infants with single right ventricle anomalies after initial staged palliations. Pediatr Cardiol 2017;38:1288-1295
Lopez L, Colan S, Stylianou M, Granger S, Trachtenberg F, Frommelt P, Pearson G, Camarda J, Cnota J, Cohen M, Dragulescu A, Frommelt M, Garuba O, Johnson T, Lai W, Mahgerefteh J, Pignatelli R, Prakash A, Sachdeva R, Soriano B, Soslow J, Spurney C, Srivastava S, Taylor C, Thankavel P, van der Velde M, Minich L for the PHN Investigators. Relationship of echocardiographic z-scores adjusted for body surface area to age, sex, race, and ethnicity: The Pediatric Heart Network Normal Echocardiogram Database. Circ Cardiovasc Imaging 2017;10:pii: e006979
Joong A, Hayes DA, Anderson BR, Zuckerman WA, Carroll SJ, Lai WW. Comparison of echocardiographic diagnostic criteria of left ventricular noncompaction in a pediatric population. Pediatr Cardiol 2017;38:1493-1504
Villafane J, Edwards TC, Diab KA, Satou GM, Saarel E, Lai WW, Serwer GA, Karpawich PP, Cross R, Schiff R, Chowdhury D, Hougen TJ. Development of quality metrics for ambulatory care in pediatric patients with tetralogy of Fallot. Congenit Heart Dis 2017;12:762-767
Joong A, Lai WW, Ferris A. Cardiogenic unilateral pulmonary oedema in an infant with severe residual mitral regurgitation. Cardiol Young 2017;27:173-175 [case report]
Selamet Tierney ES, Levine JC, Sleeper LA, Roman MJ, Bradley TJ, Colan SD, Chen S, Campbell MJ, Cohen MS, De Backer J, Heydarian H, Hoskoppal A, Lai WW, Liou A, Marcus E, Nutting A, Olson AK, Parra DA, Pearson GD, Pierpont ME, Printz BF, Pyeritz RE, Ravekes W, Sharkey AM, Srivastava S, Young L, Lacro RV; Pediatric Heart Network Investigators. Influence of aortic stiffness on aortic-root growth rate and outcome in patients with the Marfan syndrome. Am J Cardiol 2018;121:1094-1101
Soriano BD, Fleishman CE, Van Hoever AM, Wright B, Printz B, Tacy TA, Allada V, Lai WW, Buddhe S, Srivastava S. Determinants of physician, sonographer, and laboratory productivity: Analysis of the third survey from the American Society of Echocardiography Committee on Pediatric Echocardiography Laboratory Productivity. J Am Soc Echocardiogr 2018;31:976-982
Hoskoppal A, Menon S, Trachtenberg F, Burns KM, De Backer J, Gelb BD, Gleason M, James J, Lai WW, Liou A, Mahony L, Olson AK, Pyeritz RE, Sharkey AM, Stylianou M, Wechsler SB, Young L, Levine JC, Tierney ESS, Lacro RV, Bradley TJ; Pediatric Heart Network Investigators. Predictors of rapid aortic root dilation and referral for aortic surgery in Marfan syndrome. Pediatr Cardiol 2018;39:1453-1461
Cohen MS, Dagincourt N, Zak V, Baffa JM, Bartz P, Dragulescu A, Dudlani G, Henderson H, Krawczeski CD, Lai WW, Levine JC, Lewis AB, McCandless RT, Ohye RG, Owens ST, Schwartz SM, Slesnick TC, Taylor CL, Frommelt PC; Pediatric Heart Network Investigators. The impact of the left ventricle on right ventricular function and clinical outcomes in infants with single-right ventricle anomalies up to 14 months of age. J Am Soc Echocardiogr 2018;31:1151-1157
Goldberg CS, Hu C, Brosig C, Gaynor JW, Mahle WT, Miller T, Mussatto KA, Sananes R, Uzark K, Trachtenberg F, Pizarro C, Pemberton VL, Lewis AB, Li JS, Jacobs JP, Cnota J, Atz AM, Lai WW, Bellinger D, Newburger JW; PHN INVESTIGATORS. Behavior and quality of life at 6 Years for children with hypoplastic left heart syndrome. Pediatrics 2019;144:e20191010
Lagae L, Sullivan J (co-first author), Knupp K, Laux L Polster T, Nikanorova M, Devinsky O, Cross JH, Guerrini R, Talwar D, Miller I, Farfel G, Galer BS, Gammaitoni A, Mistry A, Morrison G, Lock M, Agarwal A, Lai WW, Ceulemans B for the FAiRE DS Study Group. Fenfluramine hydrochloride for the treatment of seizures in Dravet syndrome: a randomised, double-blind, placebo-controlled trial. Lancet 2019;394:2243-2254
Paul EA, Solana AB, Duong J, Shah AM, Lai WW, Tan ET, Hardy CJ, Chelliah A. Evaluation of self-calibrated non-linear phase contrast correction in pediatric and congenital cardiac magnetic resonance imaging. Pediatr Radiol 2020;50:656-663
Lai WW, Galer B, Wong P, Farfel G, Pringsheim M, Keane MG, Agarwal A. Cardiovascular safety of fenfluramine (Fintepla®) in the treatment of Dravet Syndrome: Interim analysis of an open-label safety extension study. Epilepsia 2020;61:2386-2395
Sananes R, Goldberg CS, Newburger JW, Hu C, Trachtenberg F, Gaynor JW, Mahle WT, Miller T, Uzark K, Mussatto KA, Pizarro C, Jacobs JP, Cnota J, Atz AM, Lai WW, Burns K, Milazzo A, Votava-Smith J, Brosig CL on behalf of the PHN investigators. 6-year neurodevelopmental outcomes for children with single ventricle physiology. Pediatrics 2021;147:e2020014589
Videos