Dr. Pierangelo Renella, Pediatric Cardiology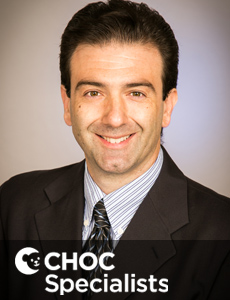 Dr. Pierangelo Renella is involved in multiple clinical research projects involving cardiac MRI and CT. He sub-specializes in fetal cardiology and advanced cardiovascular imaging, including fetal echocardiography, cardiac MRI and cardiac CT. Dr. Renella helped develop and now co-directs the Advanced Congenital Cardiovascular Imaging program at CHOC.
Dr. Renella is board certified in pediatrics and pediatric cardiology. Prior to joining CHOC, Dr. Renella attended medical school at the University of California, Irvine. He completed his pediatric residency training at Children's Hospital Los Angeles and a fellowship in pediatric cardiology at the University of California, Los Angeles. He completed an advanced fellowship in advanced cardiovascular imaging at Boston Children's Hospital in Massachusetts. Dr. Renella is fluent in Spanish and Italian.
Clinical Interests
Fetal cardiology, advanced cardiovascular imaging, fetal echocardiography, cardiac MRI, cardiac CT
Locations
CHOC Specialists – Cardiology
505 S Main St
Suite 200
Orange, CA 92868
phone: (714) 509-3939
fax: (714) 509-3949
CHOC Health Center in Corona
854 Magnolia Ave.
Suite 101
Corona, CA 92879
Hoag Memorial Presbyterian Hospital
1 Hoag Dr
Newport Beach, CA 92663
Western Medical Center
1001 N Tustin Ave
Santa Ana, CA 92705
Anaheim Regional Medical Center
1111 W La Palm Ave
Anaheim, CA 92801
Presbyterian Intercommunity Hospital
12401 Washington Blvd
Whittier, CA 90602
St Jude Medical Center
101 E Valencia Mesa Dr
Fullerton, CA 92835
Education
Pediatric Cardiovascular Imaging Fellowship
Children's Hospital Boston, Boston, Massachusetts
Pediatric Cardiology Fellowship
Mattel Children's Hospital, University of California at Los Angeles Medical Center, Los Angeles, California
Transesophageal and fetal echocardiology Rotation
Children's Hospital Los Angeles, Los Angeles, California
Pediatrics Residency
Children's Hospital Los Angeles, Los Angeles, California
Pediatric Internship
Children's Hospital Los Angeles, Los Angeles, California
Medical School
University of California at Irvine, College of Medicine, Irvine, California
Administrative Appointments
Cardiology, CHOC Specialists
Academic Appointments
Assistant Clinical Professor, Pediatrics
UC Irvine School of Medicine
Professional Organizations
American Heart Association
Society of Cardiovascular Magnetic Resonance
Editorial Boards
Published Works
Nguyen KL, Khan SN, Moriarty JM, Mohajer K, Renella P, Satou GM, Ayad I, Patel S, Boechat MI, Finn JP. High Field MR Imaging in Pediatric Congenital Heart Disease: Initial Results. Pediatr Radiol. 2015 Jan;45(1):42-54.
Renella P, Marx GR, Zhou J, Gauvreau K, Geva T. Feasibility and Reproducibility of Three-Dimensional Echocardiographic Assessment of Right Ventricular Size and Function in Pediatric Patients. J Am Soc Echocardiogr. 2014 Aug;27(8):903-10.
Khan SN, Rapacchi S, Han, F, Renella P, Satou GM, Perens G, Levi DS, Hu P. High Resolution Non-Gadolinium CEMRA in Congenital Heart Disease: Initial Results in Infants at 3.0. Radiological Society of North America (RSNA). 2014; Abstract Poster.
Biniwale RM, Renella P, Reemtsen BL, Alejos JC. Resolution of Long-segment Aortic Stenosis following Simultaneous Heart-Liver Transplant for Familial Hypercholesterolemia. International Society for Heart and Lung Transplantation (ISHLT). 2014; Abstract Poster.
Gallotti R, Renella P, Recto MR, Morchi GS. Transcatheter Fontan Fenestration & Serial Dilation of a Gore-Tex Tube to Facilitate Stent Delivery Across a Restrictive Native Atrial Septum: Late Complication of Fontan Operation. Pediatric Interventional Cardiac Symposium. 2014; Abstract Poster.
Renella P, Phan D, Khan SN, Reemtsen B, Finn JP, Satou GM. Cost benefits of cardiovascular magnetic resonance imaging and angiography performed earlier in the diagnostic assessment of neonatal complex congenital heart disease. Society of Cardiovascular Magnetic Resonance. 2014; Abstract.
Mirsadraee S, Satou GM, Renella P, Hashmi A, Laks H, Finn JP. Magnetic Resonance Angiography in Paced Complex Heterotaxy Syndrome with Fontan Conduit Obstruction and Venovenous Collateral Decompression. Congenit Heart Dis. 2011 Mar-Apr;8(2).
Renella P, Aboulhosn J, Lohan DG, Jonnala P, Finn JP, Satou GM, Williams RJ, Child JS. Two-dimensional and Doppler echocardiography reliably predicts severe pulmonary regurgitation as quantified by cardiac magnetic resonance. J Am Soc Echocardiogr. 2010 Aug;23(8):880-6.
Bui YK, Renella P, Martinez JA, Verity A, Madikians A, Alejos JC. Danon disease with typical early onset cardiomyopathy in a male: focus on a novel LAMP-2 mutation. Pediatr Transplant. 2008 Mar;12(2):246-50.
Renella P, Chang RK, Ferry DA, Bart RD, Sklansky MS. Hypoplastic left heart syndrome: attitudes among pediatric residents and nurses towards fetal and neonatal management. Prenat Diagn. 2007 Nov;27(11):1045-55.
Lectures and Presentations
"Advances in Cardiac MRI and MRA"
"Chest Pain: When to Refer to a Pediatric Cardiologist"
"Advanced Non-Invasive Cardiovascular Imaging"
"Use Of Adjunctive Non-Invasive Imaging With Exercise Testing in Children"
"The Comprehensive Fetal Echocardiogram"
Book Chapters
Renella P, Finn JP. Introduction to Congenital Heart Disease Anatomy. Mushabbar SA, Mohiaddin RH (eds.) (2012). Magnetic Resonance Imaging of Congenital Heart Disease. Springer, London, UK.
Our cardiologists commonly treat: 
Congenital heart defects
Chest pain
Heart murmur
Family history of heart disease
Hypertension, obesity and lipid management
Syncope and palpitations
Sports cardiology
Cardiac genetics
Cardiomyopathy
Fetal cardiodiagnostics
Chronic lung disease
Pierangelo Renella MD

Appointments:
888-770-2462
Office: 714-509-3939
Specialty: Cardiology
Board Certified: Pediatrics, Pediatric Cardiology
Additional Languages: Spanish, Italian
On Staff at: CHOC Children's Hospital and CHOC Children's at Mission Hospital
Videos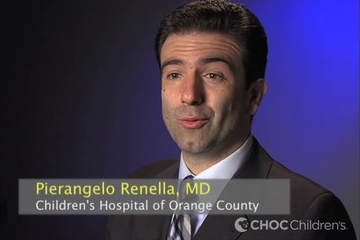 In this segment, Dr. Pierangelo Renella, CHOC, talks about Cardiac MRI, the advanced non-invasive imaging technique for diagnosing heart defects.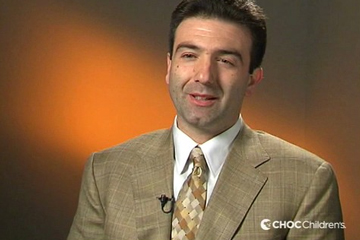 In this segment from American Health Journal, Dr. Pierangelo Renella, explains the advantages of early detection of congenital heart disease.