Dr. Pierangelo Renella, Pediatric Cardiology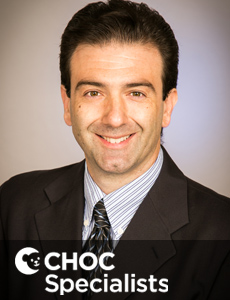 ---
Pierangelo Renella MD

Appointments:
888-770-2462
Office: 714-509-3939
Specialty: Cardiology
Board Certified: Pediatrics, Pediatric Cardiology
Additional Languages: Spanish, Italian
Dr. Pierangelo Renella sub-specializes in advanced cardiovascular imaging (including fetal echocardiography, cardiac MRI and cardiac CT) and fetal cardiology. Dr. Renella is involved in several single and multicenter clinical research projects encompassing echocardiography, cardiac MRI, and CT. He helped develop and now directs the Cardiac MRI Program at CHOC.
Dr. Renella is board certified in pediatrics and pediatric cardiology. Prior to joining CHOC, Dr. Renella attended medical school at the University of California, Irvine. He completed his pediatric residency training at Children's Hospital Los Angeles and a fellowship in pediatric cardiology at the University of California, Los Angeles. He then went on to complete a senior fellowship in advanced cardiovascular imaging at Boston Children's Hospital. Dr. Renella is fluent in Spanish and Italian.
Clinical Interests
Advanced cardiovascular imaging (cardiac MRI and cardiac CT), fetal cardiology, and echocardiography
Pierangelo Renella MD is on staff at CHOC Hospital in Orange and CHOC Mission Hospital.
Locations
Outpatient Heart Center
505 South Main Street, Suite 600
Orange, CA 92868
phone: 714-509-3939
CHOC Cardiodiagnostics
1201 West La Veta Avenue
Holmes Tower, 3rd Floor
Orange, CA 92868
phone: 714-509-9200
CHOC Health Center in Corona
854 Magnolia Avenue, Suite 101
Corona, CA 92879
CHOC Health Center in Mission Viejo
26691 Plaza, Suite 130
Mission Viejo, CA 92691
CHOC Health Center in Newport Beach
500 Superior Avenue, Suite 140
Newport Beach, CA 92660
CHOC Health Center at PIH Health
15725 E Whittier Blvd, #300
Whittier, CA 90603
Appointments: 888-770-2462
Education
Pediatric Cardiovascular Imaging Fellowship
Children's Hospital Boston, Boston, Massachusetts
Pediatric Cardiology Fellowship
Mattel Children's Hospital, University of California at Los Angeles Medical Center, Los Angeles, California
Transesophageal and fetal echocardiology Rotation
Children's Hospital Los Angeles, Los Angeles, California
Pediatrics Residency
Children's Hospital Los Angeles, Los Angeles, California
Pediatric Internship
Children's Hospital Los Angeles, Los Angeles, California
Medical School
University of California at Irvine, College of Medicine, Irvine, California
Administrative Appointments
Medical Director, CHOC Cardiac MRI Program
Cardiology, CHOC Specialists
Academic Appointments
Assistant Clinical Professor, Pediatrics
University of California at Irvine College of Medicine
Professional Organizations
American Heart Association (AHA)
Society of Cardiovascular Magnetic Resonance (SCMR)
American Society of Echocardiography (ASE)
Medical Reviewer for:
Journal of Cardiovascular Magnetic Resonance (JCMR)
Cardiology in the Young
Pediatrics
Published Works
Ashrafi AH, Lai W, Gaffar S, Renella P. Normative Echocardiographic Values for Right and Left Ventricular Function in Extremely Premature Neonates. J Pediatr. 2021 May 20:S0022-3476(21)00437-6. doi: 10.1016/j.jpeds.2021.05.014. PMID: 34022248.
Dual SA, Maforo NG, McElhinney DB, Prosper A, Wu HH, Maskatia S, Renella P, Halnon N, Ennis DB. Right Ventricular Function and T1-Mapping in Boys With Duchenne Muscular Dystrophy. J Magn Reson Imaging. 2021 May 26. doi: 10.1002/jmri.27729. PMID: 34037289.
Renella P, Lai WW. When Ejection Fraction Is Not Enough: The Search for Early Signs of Cardiomyopathy in Duchenne Muscular Dystrophy. Circ Cardiovasc Imaging. 2020 Nov;13(11):e012003. doi: 10.1161/CIRCIMAGING.120.012003. Epub 2020 Nov 16. PMID: 33190535; PMCID: PMC7673256.
Maforo NG, Magrath P, Moulin K, Shao J, Kim GH, Prosper A, Renella P, Wu HH, Halnon N, Ennis DB. T1-Mapping and extracellular volume estimates in pediatric subjects with Duchenne muscular dystrophy and healthy controls at 3T. J Cardiovasc Magn Reson. 2020 Dec 10;22(1):85. doi: 10.1186/s12968-020-00687-z. PMID: 33302967; PMCID: PMC7731511.
Repper DC, Arrieta AC, Cook JE, Renella P. A Case of Lemierre Syndrome in the Era of COVID-19: All That Glitters Is Not Gold. Pediatr Infect Dis J. 2020 Dec;39(12):e445-e447. doi: 10.1097/INF.0000000000002939. PMID: 33003102.
Chau A, Renella P, Arrieta A. Multimodality cardiovascular imaging in the diagnosis and management of prosthetic valve infective endocarditis in children report of two cases and brief review of the literature. Cardiol Young. 2019 Dec;29(12):1526-1529. doi: 10.1017/S1047951119002233. Epub 2019 Oct 8. PMID: 31590699.
Magrath P, Maforo N, Renella P, Nelson SF, Halnon N, Ennis DB. Cardiac MRI biomarkers for Duchenne muscular dystrophy. Biomark Med. 2018 Nov;12(11):1271-1289. doi: 10.2217/bmm-2018-0125. Epub 2018 Nov 30. PMID: 30499689; PMCID: PMC6462870.
Lluri G, Renella P, Finn JP, Vorobiof G, Aboulhosn J, Deb A. Prognostic Significance of Left Ventricular Fibrosis in Patients With Congenital Bicuspid Aortic Valve. Am J Cardiol. 2017 Oct 1;120(7):1176-1179. doi: 10.1016/j.amjcard.2017.06.060. Epub 2017 Jul 14. PMID: 28802508; PMCID: PMC5593788.
Bolourchi M, Renella P, Wang RY. Aortic Root Dilatation in Mucopolysaccharidosis I-VII. Int J Mol Sci. 2016 Nov 29;17(12):2004. doi: 10.3390/ijms17122004. PMID: 27916847; PMCID: PMC5187804.
Shao J, Rashid S, Renella P, Nguyen KL, Hu P. Myocardial T1 mapping for patients with implanted cardiac devices using wideband inversion recovery spoiled gradient echo readout. Magn Reson Med. 2017 Apr;77(4):1495-1504. doi: 10.1002/mrm.26223. Epub 2016 Mar 28. PMID: 27018872.
Wheeler A, Vu D, Renella P. Diagnosis and follow-up of neonatal tetralogy of Fallot and hemitruncus with discontinuous pulmonary arteries noninvasively using awake ultra low-dose computed tomographic angiography. Radiol Case Rep. 2016 Jun 24;11(3):138-41. doi: 10.1016/j.radcr.2016.05.009. PMID: 27594935; PMCID: PMC4996914.
Nguyen KL, Khan SN, Moriarty JM, Mohajer K, Renella P, Satou G, Ayad I, Patel S, Boechat MI, Finn JP. High-field MR imaging in pediatric congenital heart disease: initial results. Pediatr Radiol. 2015 Jan;45(1):42-54. doi: 10.1007/s00247-014-3093-y. Epub 2014 Aug 3. PMID: 25086500; PMCID: PMC4281382.
Renella P, Marx GR, Zhou J, Gauvreau K, Geva T. Feasibility and reproducibility of three-dimensional echocardiographic assessment of right ventricular size and function in pediatric patients. J Am Soc Echocardiogr. 2014 Aug;27(8):903-10. doi: 10.1016/j.echo.2014.04.008. Epub 2014 May 14. PMID: 24836600.
Mirsadraee S, Satou GM, Renella P, Hashmi A, Laks H, Finn JP. Magnetic resonance angiography in paced complex heterotaxy syndrome with Fontan conduit obstruction and venovenous collateral decompression. Congenit Heart Dis. 2013 Mar-Apr;8(2):E31-5. doi: 10.1111/j.1747-0803.2011.00599.x. Epub 2011 Dec 21. PMID: 22188762.
Renella P, Aboulhosn J, Lohan DG, Jonnala P, Finn JP, Satou GM, Williams RJ, Child JS. Two-dimensional and Doppler echocardiography reliably predict severe pulmonary regurgitation as quantified by cardiac magnetic resonance. J Am Soc Echocardiogr. 2010 Aug;23(8):880-6. doi: 10.1016/j.echo.2010.05.019. Epub 2010 Jul 1. PMID: 20591618.
Bui YK, Renella P, Martinez-Agosto JA, Verity A, Madikians A, Alejos JC. Danon disease with typical early-onset cardiomyopathy in a male: focus on a novel LAMP-2 mutation. Pediatr Transplant. 2008 Mar;12(2):246-50. doi: 10.1111/j.1399-3046.2007.00874.x. Epub 2008 Feb 13. PMID: 18282207.
Renella P, Chang RK, Ferry DA, Bart RD, Sklansky MS. Hypoplastic left heart syndrome: attitudes among pediatric residents and nurses towards fetal and neonatal management. Prenat Diagn. 2007 Nov;27(11):1045-55. doi: 10.1002/pd.1835. PMID: 17729373
Selected Invited Lectures and Grand Rounds
"Advances in Cardiac MRI and MRA"
"Advanced Non-Invasive Cardiovascular Imaging"
"MRI Clinical Applications: Congenital Heart Disease"
"Chest Pain: When to Refer to a Pediatric Cardiologist"
"Neonatal Pulse Oximetry Screening"
"Use Of Adjunctive Non-Invasive Imaging With Exercise Testing in Children"
"The Comprehensive Fetal Echocardiogram"
"Fetal Arrhythmias: An Overview"
"Pediatric Cardiovascular Health Initiative: Key Topics on Prevention and Diagnosis"
"Infectious Endocarditis: What is New and What is Old for Prevention, Diagnosis and Treatment"
LV Systolic Function and Filling by Echo: The Basics"
"Innovations in Pediatric Cardiology"
Book Chapters
Renella P, Finn JP. Introduction to Congenital Heart Disease Anatomy. Mushabbar SA, Mohiaddin RH (eds.) (2012). Magnetic Resonance Imaging of Congenital Heart Disease. Springer, London, UK.
Our cardiologists commonly treat: 
Congenital heart defects in babies, children, and young adults
Congenital heart defects in the fetus
Heart murmurs
Syncope (fainting)
Palpitations
Sports cardiology
Cardiomyopathy
Family history of congenital heart disease
Hypertension, obesity and lipid management
Pectus excavatum
Videos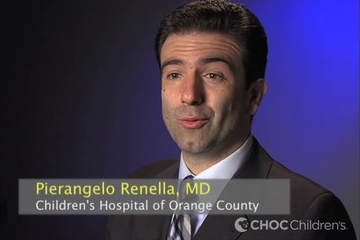 Cardiac MRI: Dr. Renella
In this segment, Dr. Pierangelo Renella, CHOC, talks about Cardiac MRI, the advanced non-invasive imaging technique for diagnosing heart defects.