Dr. Sailaja Golla, Child Neurology and Neurodevelopmental Medicine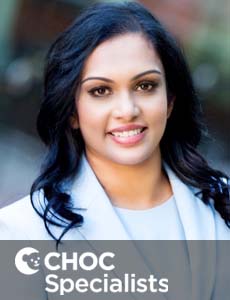 Dr. Sailaja Golla, MBBS(MD) is a Pediatric neurology specialist and Neurodevelopmentalist with National and International expertise in the field of Autism. She currently practices at Thompson Autism Center, CHOC Hospital in Orange County.
Dr Golla graduated in 2000 from Vijayanagar Institute of Medical Sciences, a recognized, premier Medical School in India. She completed requirements for ECFMG certification in 2002. She then underwent Residency training in Pediatrics at University at Buffalo (completed in 2005) followed by Residency training in Child Neurology at UT Southwestern Medical Center (completed in 2008).
As a Child Neurology Resident, she won Teva Neuroscience award for her academic performance in 2007 as well as 2008. She also won the Leon Weisberg award for her research work looking at the incidence of dystrophinopathies in girls with Limb Girdle Muscular Dystrophy. The resulting manuscript was selected as the best paper during Annual Neurology Resident research presentations at UT Southwestern in 2008. She was also selected and served as a Chief Resident of Child Neurology in 2008. She has Board Certification in Neurology with Special Qualification in Child Neurology issued by American Board of Psychiatry and Neurology.
She furthered her research training when she joined the Department of Neurology at UT Southwestern Medical Center in 2009, as an Instructor, to work in Dr Juan Pascual's laboratory in the field of rare mitochondrial disorders. She was supported by Hegi Research Scholarship award during this period. She then underwent further post-graduate clinical training to complete a residency in Neurodevelopmental Disabilities in June 2010, at UT Southwestern Medical Center, to become one of very few Neurodevelopmental Disabilities specialists in the country. She is the first graduate from Neurodevelopmental Disabilities program at UT Southwestern Medical Center. It is one of only eight such training programs in the country.
She has published in peer reviewed journals and has written book chapter , and is currently involved in research studies in the field autism and Neurodevelopmental disabilties. She has presented at National conferences in the field of Autism and Child Neurology.
She has won several recognitions and honors including D Magazine Best Doctors, America's Best Physicians, Mom approved Doctor.
She actively participates and volunteers for Autism speaks, Autism live show, Autism one on one, Parent associations and is an active advocate and cheer leader to make life better for children with Autism and Neurodevelopmental disabilities.
Location
CHOC Hospital
1201 W. La Veta Ave.
Orange, CA 92868
CHOC Thompson Autism Center
170 S. Main Street
Orange, CA 92868
Phone:714-288-7651
Fax: 714-288-7379
Education
Medical School
Vijayanagar Institute Medical Sciences, Cantonment, Ballari, Karnataka
Residency
Children's hospital, University of Buffalo, NY
Fellowship
UT Southwestern Medical Center, Dallas, TX
Sailaja Golla MBBS, MD

Appointments:
714-288-7651
Specialty: Neurology
Board Certified: Child Neurology
On Staff at: CHOC Hospital in Orange