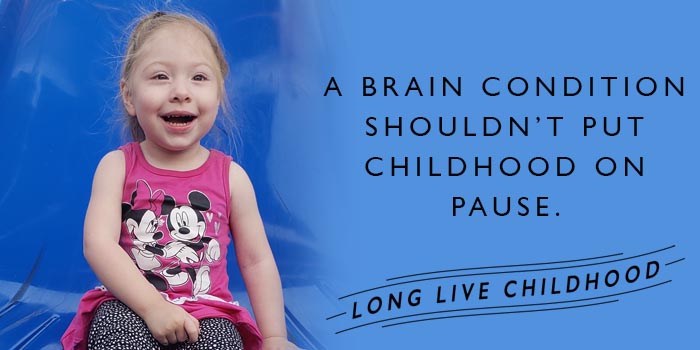 When your child is born with encephalocele, the excitement of having a baby can turn to worry. At CHOC, we understand that you will have many questions, and we are here to support your child and your family, every step of the way. Our team of specialists will be with you from the birth though surgery, and continuing into your child's future to ensure the best outcome.
What is encephalocele?
Early in pregnancy, a fetus develops a narrow channel called a neural tube that folds and closes to form the brain and spinal cord. Encephalocele occurs when the neural tube does not fully close and a combination of brain matter, fluids and membranes protrude from the skull. This is usually seen in the back of the head or near the nose. This is a very rare disease, with around 340 babies born in the U.S. with the disorder each year.
What are the causes of encephalocele?
The exact cause of encephalocele is unknown, but the lack of a B vitamin called folic acid during pregnancy could be a contributing factor.
How is encephalocele diagnosed?
Encephalocele can be diagnosed during pregnancy, or it becomes clear upon birth. However, there are times when the protrusion is small enough that it goes undetected for some time.
What are the symptoms of encephalocele?
Symptoms your child may encounter along with encephalocele include:
An accumulation of cerebrospinal fluid in the brain (hydrocephalus)
An abnormally small head for the child's age and sex (microcephaly)
Neurologic problems
Possible paralysis of limbs
Vision problems
Intellectual disability
Stunted growth
Seizures
Developmental delays
Infants born with encephalocele will require care from a hospital close to home, for safety and for practical reasons. Your child will need to stay in the hospital after surgery, and there will be multiple follow-up visits as they grow.
What are the treatment options for encephalocele?
A child with encephalocele will need surgery to place the protruding matter back into the skull and close the opening. The length of surgery and recovery will depend on the case and location of the protrusion. Multiple surgeries may be needed. CHOC will have a team of specialists including neurosurgeons, nurses, plastic surgeons and others, working diligently to treat your child.
Follow-Up Care
Lasting effects of encephalocele depend on each case. Historically, children with a protrusion on the front of the skull have fewer neurological effects than those with a protrusion at the back of the skull. Neurological issues occurring before surgery will likely continue after the surgery and recovery.
CHOC will follow your child throughout their life, from birth to surgery to recovery and beyond, with regular checkups to ensure the best possible outcome for your child.
Why CHOC?
As a parent, we understand your top priority is choosing a hospital and team of doctors that will bring the best outcome for your child and family as possible.
The neonatal intensive care unit (NICU) at CHOC is one of a select few in the U.S. rated as a Level 4—the highest rating available—by the American Academy of Pediatrics.
We practice a team approach to healing. Neurological conditions in children require a team of caregivers including neurologists, orthopedic specialists, nurses, social workers, rehabilitation therapists and others. Our team works together on every aspect of your child's care from diagnostics to surgery and follow-up care.
We understand that a hospital can seem frightening for both your child and your family. Our child life specialists work with families to normalize hospital equipment and procedures so you can concentrate on healing instead.
Our surgical center is outfitted with advanced imaging, communications and robotics technologies, specific to children and their needs. This ensures a high level of proficiency and safety for the children under our care.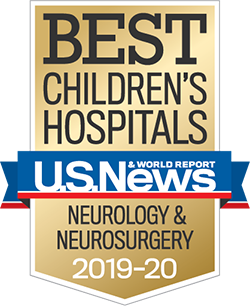 Meet Our Pediatric Neurosurgeons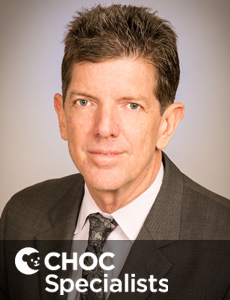 Specialty: Neurosurgery
Appointments: 714-509-7070

Dr. William Loudon is a board-certified pediatric neurosurgeon at CHOC Hospital.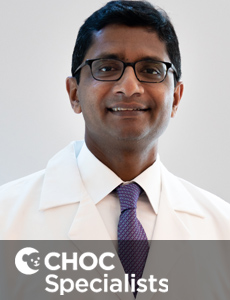 Specialty: Neurosurgery
Office: 714-509-7070

Dr. Suresh Magge is board certified in neurosurgery who treats kids and teens in Orange County.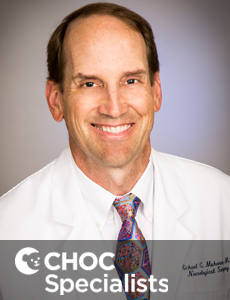 Specialty: Neurosurgery
Appointments: 714-509-7070

Dr. Michael Muhonen is a board certified neurosurgeon at CHOC, treating babies, kids and teens with neurological disorders.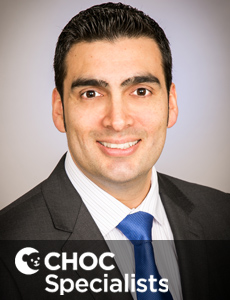 Specialty: Neurosurgery
Appointments: 714-509-7070

Dr. Joffre Olaya specializes in neurosurgery. He sees kids and teens at CHOC Hospital in Orange and CHOC at Mission Hospital.