Dr. Janetta Arellano, Neurology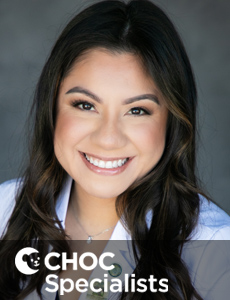 ---
Janetta Arellano MD

Office: 714-509-7601
Specialty: Neurology
Board Certified: Neurology, Special Qualifications in Child Neurology
Dr. Janetta L. Arellano is a board certified pediatric neurologist at CHOC in Orange County, California. As an expert in pediatric neurology, Dr. Arellano cares for babies, kids and teens with a wide variety of neurologic conditions. She has special interests in neuroimmunologic and demyelinating disorders, including pediatric onset multiple sclerosis, autoimmune encephalitis (including anti-NDMA receptor encephalitis), acute disseminated encephalomyelitis (ADEM), myelin oligodendrocyte glycoprotein (MOG) spectrum disorders, neuromyelitis optica spectrum disorders (NMOSD), optic neuritis (ON) and transverse myelitis (TM).
Dr. Arellano's research interests include autoimmune encephalitis and pediatric onset multiple sclerosis.
Dr. Arellano is bilingual in English and Spanish.
Janetta Arellano MD is on staff at CHOC Hospital in Orange .
Location
CHOC Specialists, Neurology
1201 W. La Veta Ave.
Orange, CA 92868
phone: 714-509-7601
fax: 714-509-7650
Education
Medical School
University of Washington School of Medicine, Seattle, WA
Residency, Child Neurology
UCI Medical Center, Orange, CA
Fellowship
UCI Medical Center, Orange, CA