Dr. Donald Phillips, Neurology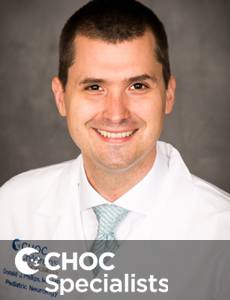 ---
Donald J Phillips MD, MPH, FACNS

Appointments:
888-770-2462
Office: 714-509-7601
Specialty: Neurology
Board Certified: Neurology, Clinical Neurophysiology, Epilepsy, Epilepsy Monitoring, Neurophysiologic Intraoperative Monitoring
Dr. Donald Phillips is a board-certified pediatric epileptologist and neurophysiologist at CHOC in Orange County, California. As an expert in pediatric epilepsy, Dr. Phillips cares for babies, kids, teens and young adults with a wide variety of epilepsy-related health conditions such as infantile spasms, Lennox Gastaut Syndrome (LGS), Dravet Syndrome and CDKL5 Deficiency Disorder. He specializes in medically complex epilepsy syndromes, surgical epilepsy, epileptic encephalopathy, tuberous sclerosis complex (TSC) and pediatric intraoperative neuromonitoring.
Dr. Phillips is the interim medical director of the CHOC Comprehensive Epilepsy Center, medical director of the neurodiagnostic/EEG laboratory and medical director of the CHOC Tuberous Sclerosis Complex (TSC) Clinic. In these roles, Dr. Phillips has worked to facilitate high quality, accessible and comprehensive care for all patients and families living with epilepsy and TSC.
His research interests include electrographic status epilepticus in sleep (ESES), epileptic encephalopathy, computational EEG and epilepsy quality improvement (QI). Dr. Phillips is the site principal investigator for several clinical trials evaluating emerging pharmaceutical and medical device therapies for a variety of rare epilepsy syndromes.
Dr. Phillips earned his bachelor's degree in chemistry and biochemistry from University of Michigan and his master's degree in public health from Boston University before obtaining his medical degree from University of Southern California Keck School of Medicine. He completed his internship, residency and a fellowship in pediatric epilepsy at University of California Los Angeles. He is a fellow of the American Clinical Neurophysiology Society and a member of American Epilepsy Society and the Orange County Medical Association.
Donald J Phillips MD, MPH, FACNS is on staff at CHOC Hospital in Orange and CHOC Mission Hospital.
Locations
CHOC Neuroscience Center
505 S Main St, Suite 350
Orange, CA 92868
phone: 888-770-2462
fax: 855-246-2329
Education
Medical School
USC Keck School of Medicine, Los Angeles, CA
Neurology Residency
UCLA Medical Center, Los Angeles, CA
Clinical Neurophysiology Fellowship
UCLA Medical Center, Los Angeles, CA
Epilepsy Fellowship
UCLA Medical Center, Los Angeles, CA
Administrative Appointments
Neurology, CHOC Specialists
Interim Director, CHOC Comprehensive Epilepsy Center
Director, Neurodiagnostics/Neurophysiology
Director, CHOC Comprehensive Tuberous Sclerosis Clinic
Academic Appointment
 Associate Clinical Professor, UCI Department of Pediatrics
Our neurologists commonly treat:
Movement disorders
Headaches
Concussion and head/spine trauma
Neurogenetic/neurometabolic disorders
Neuroimmunological disorders
Neurological aspects of head injuries
Complications of central nervous system infections