Dr. Daniel W. Shrey, Neurology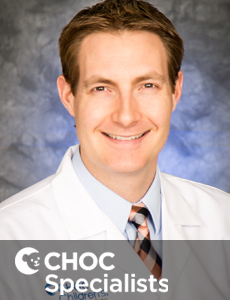 ---
Daniel W Shrey MD

Appointments:
888-770-2462
Office: 714-509-7601
Specialties: Child Neurology, Clinical Neurophysiology
Board Certified: Child Neurology, Clinical Neurophysiology, Epilepsy
As a pediatric neurologist and epilepsy specialist, Dr. Shrey's clinical interests include infantile spasms, Lennox-Gastaut syndrome, refractory epilepsy, intracranial monitoring, epilepsy surgery, and healthcare quality improvement. His research interests include using quantitative methods to analyze and understand epileptic disorders, such as infantile spasms and Lennox-Gastaut syndrome, as well as applying modern technology to solve complex questions that arise in patients with neurological conditions. With his background in biomedical engineering, he is working to bring multiple advances in neuroimaging to CHOC including PET-MRI fusion, three dimensional CT and MRI reconstruction, and intracranial electrode localization for epilepsy surgery planning.
Since joining CHOC in July 2014, Dr. Shrey has worked with the Comprehensive Epilepsy Center to advance the standard of care for children with epilepsy through the development of new technology and quality improvement measures. He has served as a liaison between CHOC and other research groups, including UCLA, UC Irvine, and the Pediatric Epilepsy Research Consortium. He has developed research collaborations with UC Irvine neuroscientists and was recently awarded one of the inaugural UC Irvine " CHOC Research Foundation Collaborative Research Grants to study quantitative biomarkers in patients with infantile spasms. He has also developed an online digital curriculum for the epilepsy fellowship program at CHOC " UC Irvine, including an atlas of EEG findings, a library of journal articles, and a collection of lectures covering many salient topics within pediatric epilepsy.
Dr. Shrey is board certified in child neurology, clinical neurophysiology and epilepsy. He holds a bachelor's of science in biomedical engineering from Northwestern University, attended medical school at University of Cincinnati College of Medicine, and completed his pediatrics and child neurology training at UCLA. He also completed a subspecialty fellowship in pediatric epilepsy at CHOC and UC Irvine. He is a member of the Gold Humanism Honor Society, the American Epilepsy Society, the American Academy of Neurology, and the Orange County Medical Association.
Daniel W Shrey MD is on staff at CHOC Hospital in Orange and CHOC Mission Hospital.
Locations
CHOC Hospital
1201 W La Veta Ave
Orange, CA 92868
CHOC Neuroscience Center
505 S Main St, Suite 350
Orange, CA 92868
phone: 888-770-2462
fax: 855-246-2329
Education
Medical School
University of Cincinnati College of Medicine, Cincinnati, OH
Pediatrics Residency
UCLA Ronald Reagan Medical Center, Los Angeles, CA
Child Neurology Residency
UCLA Ronald Reagan Medical Center, Los Angeles, CA
Clinical Neurophysiology Fellowship
UCI Medical Center, Orange, CA
Academic Appointments
Assistant Clinical Professor, UC Irvine
Administrative Appointments
Neurology, CHOC Specialists
Honors and Awards
American Epilepsy Society Epilepsy Fellow Scholarship Award
UCLA Division of Stroke Neurology Roger Bannister Award
UCLA Star Award of Excellence
Professional Organizations
American Academy of Neurology
American Epilepsy Society
Child Neurology Society
Infantile Spasms Consortium
Pediatric Epilepsy Research Consortium
Publications
Shrey DW, Kim McManus O, Rajaraman R, Ombao H, Hussain SA, Lopour BA. Strength and stability of EEG functional connectivity predict treatment response in infants with epileptic spasms. Clin Neurophysiol. 2018 Aug 4;129(10):2137-2148. doi: 10.1016/j.clinph.2018.07.017. PMID: 30114662.
Smith RJ, Sugijoto A, Rismanchi N, Hussain SA, Shrey DW, Lopour BA. Long-Range Temporal Correlations Reflect Treatment Response in the Electroencephalogram of Patients with Infantile Spasms. Brain Topogr. 2017 Nov;30(6):810-821. doi: 10.1007/s10548-017-0588-5. Epub 2017 Sep 13.
Shrey DW, Griesbach GS, Giza CC. The pathophysiology of concussions in youth. Phys Med Rehabil Clin N Am. 2011 Nov;22(4):577-602, vii. doi: 10.1016/j.pmr.2011.08.002. Epub 2011 Sep 25. Review. PMID: 22050937
Zupanc ML, Lily T, Mower AI, Taraman S, Shrey D, Steenari MR, Olaya J. Cost Effectiveness of Multidisciplinary Team Approach in Intractable Epilepsy Patients. Abstract. Annual American Epilepsy Society Meeting. December 2014.
Zupanc ML, Lily T, Mower AI, Shrey D, Steenari MR, Olaya J. Cost Effectiveness of Multidisciplinary Team Approach in Intractable Epilepsy Patients. Abstract Poster. Annual International Epilepsy Symposia. 2014.
Shrey DW, Mayo MC, Giza CC. Pediatric vs. Adult Mild Traumatic Brain Injury. Oxford Handbook of Sports-Related Concussion. In preparation.
Research Projects
Quantitative Biomarkers of Hypsarrhythmia for the Diagnosis of Infantile Spasms
Collaboration pilot grant by CHOC Research Foundation & UC Irvine
Our neurologists commonly treat:
Movement disorders
Headaches
Concussion and head/spine trauma
Neurogenetic/neurometabolic disorders
Neuroimmunological disorders
Neurological aspects of head injuries
Complications of central nervous system infections