Dr. Clare Skora, Child Neurology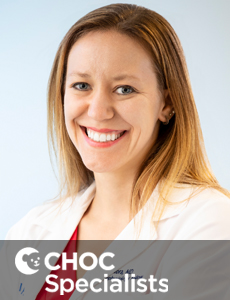 ---
Clare E. Skora MD

Office: 714-509-7601
Specialty: Neurology
Board Certified: Neurology; Child Neurology
Additional Languages: Spanish
As a pediatric neurologist and epilepsy specialist, Dr. Clare Skora primarily evaluates and cares for children with seizures, particularly refractory seizures (ones which medications fail to adequately control). Her clinical and research interests include epilepsy surgery, ketogenic diet, neuromodulation, telemedicine and tuberous sclerosis complex (TSC). She has extensive experience working with medically underserved populations and strives to improve access to high-level comprehensive epilepsy care in Orange County
Dr. Skora is board certified in pediatric neurology, clinical neurophysiology and epilepsy. She is the Co-Director of the CHOC Tuberous Sclerosis Complex (TSC) Clinic.
Dr. Skora completed her undergraduate studies at Washington University in Saint Louis, majoring in Neurobiology and Spanish. Prior to attending medical school, she taught English to university students in Santiago, Chile. She completed medical school at Florida International University in Miami, Florida. She completed her pediatric and child neurology residencies at Johns Hopkins Hospital. She also completed a subspecialty fellowship in pediatric clinical neurophysiology with a focus on pediatric epilepsy at CHOC and UC Irvine. She is a member of the Gold Humanism Honor Society, Alpha Omega Alpha, the American Epilepsy Society, the American Academy of Neurology and the Pediatric Epilepsy Research Consortium.
Clare E. Skora MD is on staff at CHOC Hospital in Orange .
Location
CHOC Specialists, Neurology
1201 W. La Veta Ave.
Orange, CA 92868
phone: 714-509-7601
fax: 714-509-7650
Education
Medical School
FIU Herbert Wertheim College of Medicine, Miami, FL
Pediatrics Residency
Johns Hopkins Hospital, Baltimore, MD
Child Neurology Residency
Johns Hopkins Hospital, Baltimore, MD
Clinical Neurophysiology Fellowship
UC Irvine/CHOC, Orange, CA