---
When it comes to surgery, babies present a unique challenge because of their small size and complex conditions. Their health can change in an instant, requiring quick action and expertise. No other hospital in the region is prepared to meet this challenge like CHOC. We proudly offer the only Surgical Neonatal Intensive Care Unit on the West Coast, providing highly specialized care for babies who need surgery.
The Surgical NICU brings every member of the care team together to follow a coordinated plan for babies, and provide a seamless experience for families. This coordinated effort is backed by national-level research and quality improvement efforts, all of which has led to better patient outcomes.
Ready for the Call
Some conditions that require surgery may be identified before your baby is born. OB/GYN specialists or perinatologists who identify a problem may make a referral to our Surgical NICU team. We will meet one-on-one with your family, along with our top specialists, to review your baby's condition and plan for a surgery that will take place after your baby is born. For prenatal consultations, please call 714-364-4050.
CHOC also has a specialized Transport Team to transfer babies from other hospitals if needed. To consult with our team or schedule a transport, referring hospitals may call the CHOC NICU at 714-509-8540.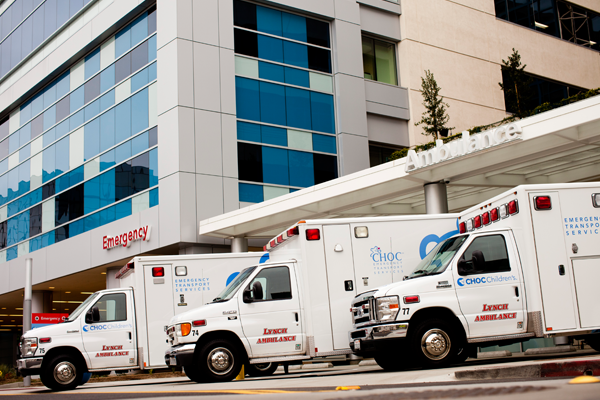 An Expert Team Approach
Our multidisciplinary team includes pediatric-trained surgeons, neonatologists and anesthesiologists who collaborate at a level not seen at most hospitals. The team also includes a dedicated neonatal nurse practitioner, anesthesiologists, specialized nurses, respiratory therapists, dietitians, pharmacists, speech therapists, occupational and physical therapists, social workers and case managers.
The team rounds jointly and discusses every baby's care as a group, forming a treatment plan that may also call on the expertise of other specialty areas of the hospital. We believe in patient- and family-centered care, which means parents and families are also vital members of the team and are partners in every stage of their baby's care.
Our surgeons represent virtually every specialty, including general and thoracic surgery, cardiac surgery, gastrointestinal (GI) surgery, neurosurgery, urological surgery, otolaryngological (ENT) surgery, plastic surgery, ophthalmologic surgery and orthopaedic surgery. In addition to dedicated clinical programs for congenital diaphragmatic hernia, short bowel syndrome and mandibular distraction, we treat the full spectrum of neonatal conditions:
Surgery is performed in CHOC's state-of-the-art operating rooms, or in the Surgical NICU. Critical technology is readily available, including extracorporeal membrane oxygenation (ECMO) and high-frequency ventilation. The Surgical NICU team is always in close communication with the operating room and anesthesia teams about each baby's care plan. Unique processes and protocols have been developed to address pain management, recovery from anesthesia and hypothermia prevention.
A trained rehabilitation team is also available to assist babies with the challenges that can follow surgery, including wound healing and developmental therapy for physical, motor and feeding skills.
After surgery, babies recover in the Surgical NICU for as long as necessary in a comfortable space that promotes healing and low stress. As a baby heals and becomes stabilized, we encourage parents and families to hold, feed and care for them just as they would at home. Learn more about parenting in the NICU.
When Your Baby Needs Surgery
Alicia's Story
Little Alicia was born at full term, beautiful with 10 fingers, 10 toes and a life-threatening defect buried inside her tiny chest. Alicia had a congenital diaphragmatic hernia (CDH), a condition wherein a hole in the diaphragm allows abdominal organs to move into the chest. And this case was especially serious.