At the CHOC Spine Center, our spine specialists treat more Orange County children and adolescents with spine conditions than any other hospital. From easing back pain to correcting the most extreme spine curvatures, our multidisciplinary team covers a wide range of spinal conditions and injuries. We are actively involved in researching the very latest and effective treatments, and we consistently measure against national benchmarks to ensure the best outcomes.
Conditions We Treat
At CHOC's Spine Center, our specialists treat all conditions of the spine, including: 
Traumatic spine injuries
Back pain
The Spine Center also cares for children with a variety of conditions that are often associated with spinal deformity, including cerebral palsy, spina bifida, muscular dystrophy and others.
Correcting Scoliosis at Any Age
From infants to children to teens, our spine specialists have fine-tuned the most innovative and successful treatments for scoliosis. We take a conservative approach to treatment, first observing and then prescribing bracing if necessary. When surgery is necessary, the Spine Center provides patients with access to a full range of treatment options in a setting specially designed to treat kids and teens. Our neurosurgical specialists utilize the latest techniques such as growing rods to preserve growth and corrective spinal fusion. Learn more about the scoliosis program at CHOC.
"California is one of a number of states that requires screening students for scoliosis in schools. It's important that children get screened with their school nurse or their pediatrician," says Dr. Aminian. Read more about pediatric spine issues here. 
Why Choose CHOC's Pediatric Spine Center?
Physical Therapy and Spine Surgery Recovery
Our pediatric-trained physical therapists provide exercise programs and other methods that address the pain and muscular imbalance that can be associated with spinal conditions, while maximizing physical function and ability. We use exercise-based techniques to improve back pain and help patients recover from spine surgery. Learn more about physical therapy at CHOC.
Spine Surgery Technology and Spine Specialists
Spine surgery is used to correct deformities of the spine that cannot be corrected using less invasive methods. Our surgical specialists' utilize the latest techniques such as growing rods to preserve growth while correcting the curvature and thoracoscopic-assisted spinal surgery. Our fully integrated procedure rooms are designed to provide patients with the very best in safety and precision. We utilize the state-of-the-art O-arm® Surgical Imaging System, a multi-dimensional surgical imaging platform that provides real-time, intra-operative imaging of a patient's anatomy with high quality images and a large field-of-view in both two and three dimensions. We continuously monitor a patient's spinal cord throughout the surgical procedure, and an autologous blood recovery system is used to minimize post-operative blood transfusions. Learn more about spine surgery at CHOC.
Child Life Services
We understand the stress and anxiety that kids and teens face with a hospital stay or treatment. Through our child life program, our patients are encouraged to gain an understanding of their hospital experiences by introducing them and their families to the hospital environment, procedure and equipment. Child life specialists work with our patients — from surgery through inpatient recovery — and provide age-appropriate emotional and developmental support to help minimize any anxiety they might be experiencing. Learn more about child life services.
Dr. Aminian: Leading the Way in Pediatric Spine Treatments
Dr. Aminian leads the CHOC Spine Center. He completed his general surgery internship and orthopaedic surgery residency at Northwestern Memorial Hospital and is affiliated with the Pediatric Orthopaedic Society of North America, the American Academy of Orthopaedic Surgery and the Scoliosis Research Society. Dr. Aminian's philosophy of care: "I try to put myself in the parents' shoes and explain to them in the most common terms what we're doing and why we're doing it, reminding them of the hospital's capabilities."
Learn more about Dr. Aminian's role with the Orthopaedic Institute and his ongoing research.
The Fetal Care Center of Southern California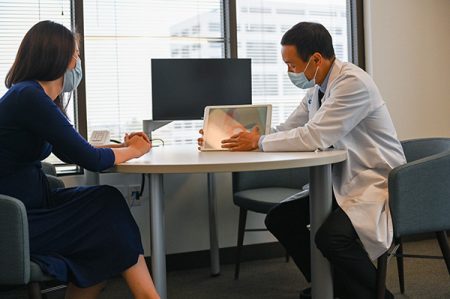 If an abnormality is detected before your baby is born, our team of pediatric experts at the Fetal Care Center of Southern California can confirm your baby's diagnosis, provide extensive condition education and counseling, and begin comprehensive treatment planning for after your baby's birth.
Spine Center Related Content
Meet Our Spine Specialists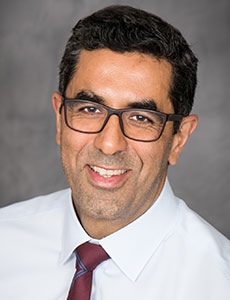 Specialty: Orthopedic Surgery
Appointments: 888-770-2462
Office: 714-633-2111

Dr Aminian, medical director of the Orthopaedic Institute is an internationally recognized expert who specializes in spine surgeries and scoliosis.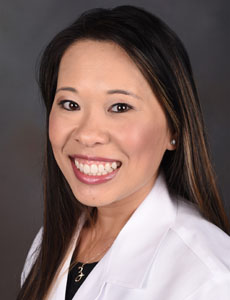 Specialty: Orthopedic Surgery
Office: 714-633-2111

Dr. Lisa A. Cao is a board certified orthopedic surgeon who treats kids and children in Orange County.
Where is CHOC's Spine Center located?
Our Spine Center offers a team of pediatric spine and orthopedic specialists near the CHOC's main campus and is located at 1201 W. La Veta Ave., Orange, CA 92868.  Learn more here. 
Contact Us and Make an Appointment
The CHOC Spine Center is a vital resource for children throughout Southern California — offering patients the most advanced treatment options and comprehensive care in a compassionate environment. Please contact us at 1-888-770-2462; press 2 for specialty care clinics.