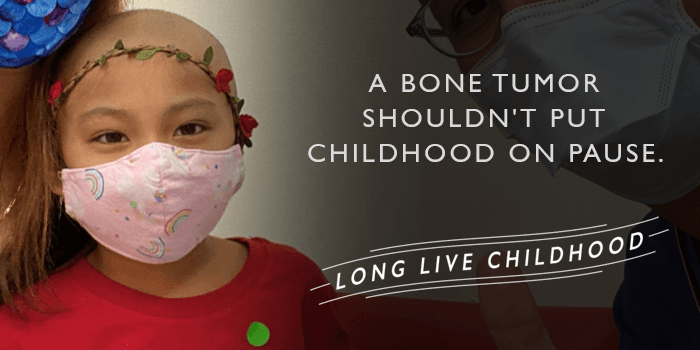 Musculoskeletal Tumor Program
Children with bone and soft tissue tumors often require the care of a number of different medical and surgical subspecialists. In addition to our orthopaedic surgeons, our multidisciplinary team includes pediatric oncologists, physical and occupational therapists, psychologists, social workers and specially trained oncology nurses to manage the unique needs of our patients.
Non-cancerous Tumors
Non-cancerous (benign) tumors of the bone and soft tissue include:
Osteochondroma: an overgrowth of cartilage and bone near the end of a bone, near the growth plate.
Chondroblastoma: a rare tumor that usually affects the growing segments of the skeleton.
Enchondroma: a slowly growing tumor of cartilage cells in the hands or feet.
Giant cell tumor: an aggressive tumor usually occurring at the end of a bone near a joint.
Aneurysmal bone cyst: a bone lesion that may develop in the long bones or vertebrae.
Baker's cyst: a cyst that forms at the back of the knee.
Chondromyxoid fibroma: a tumor in the shaft of the long bone.
Eosinophilic granuloma: can occur anywhere in the body, but most commonly in the skull.
Fibromatosis, including desmoid tumors: tumors formed from connective tissue.
Hemangiomas: tumors that are formed by a mass of blood vessels.
Ganglion cysts: fluid-filled cysts, usually on the wrist or foot.
Neurocutaneous syndromes, including tuberous sclerosis and neurofibromatosis: conditions that cause tumors in the nerve tissue.
Cancerous Tumors
Cancerous (malignant) tumors of the bones and soft tissue include:
If a diagnosis of cancer is confirmed, it is important that your child receive a referral to an oncologist in a timely manner to discuss the treatment options available. Talk to your orthopaedic specialist about obtaining a referral to the Hyundai Cancer Institute at CHOC. Learn more about how we treat bone and soft tissue sarcomas.
The Latest Treatment Options
The CHOC Orthopaedic Institute has done extensive research into the safest and most effect surgery methods that restore a limb rather than amputate whenever possible. These methods include:
Bone and soft tissue transplants
Microvascular and muscle transfers
Bone graft substitutes
These techniques all allow a limb to be restored with good function. There are even devices that can be expanded or "grown" for children to account for normal skeletal growth that is otherwise lost.
Contact Us
For more information on this program, please call the Orthopaedic Institute at 888-770-2462 and press 2 for specialty clinics.