Hyundai Cancer Institute :: Patient and Family Support Services
The Hyundai Cancer Institute at CHOC Children's offers a variety of programs designed to help children and their families cope with the unique challenges posed by cancer. Cancer Institute patients and their families can speak with their case coordinator for further information on any of the resources and services below.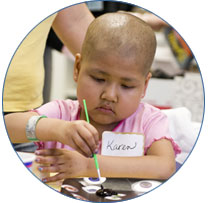 There's no place like CHOC for children and their families and one big reason for that is our outstanding Child Life Services team and their innovative programs. The ultimate goal of Child Life Services at the Cancer Institute is to make children as comfortable as possible before, during and after hospitalization. Since the physical limitations and emotional stress of cancer can disrupt a patient's normal social growth and development, our child life specialists strive to provide children with as many normal life experiences as possible during treatment. They act as advocates for the patient and family, and provide bereavement support in case there is a loss. child life specialists work closely with other members of the team such as doctors, nurses, psychologists and social workers in promoting patient and family centered care.
Our child life specialists help decrease anxiety surrounding diagnosis, treatment and hospitalization by using play and explaining treatment and procedures in language appropriate to the patient's age and development. They are experts in pain management techniques that do not use medications. They also teach other family members the coping skills they may need to care for a child with cancer and work closely with siblings to help them address their concerns. Additionally, our child life specialists help make taking medicine easier. They have tips for disguising the taste of medicine and can help children practice swallowing pills.
Patients at the Cancer Institute truly benefit from Child Life Services. They represent "safe" staff members and children know that our child life specialists are there for fun and comfort – not for "treatment" or "procedures." They are a crucial part of the health care team.
Child Life Services offers a variety of services and programs designed to help patients and their families cope with their cancer.
Pet therapy is available two times per week for both inpatients and outpatients at the Cancer Institute. Specially trained dogs who have been meticulously bathed, groomed and certified through the Delta Society or Therapy Dogs International, visit children while they receive their chemotherapy treatments or at the bedside. These dogs bring smiles to the faces of our patients, allowing them to take delight in the joys of a pet during a very difficult time in their lives. The pet therapy dogs can bring a sense of normalcy to patients with a long hospital stay, help cope during a procedureor provide encouragement for patients who need to get out of bed.
Available Monday through Friday, our music therapist works with patients of all ages and has taught children how to play several instruments, including drums and guitar. He also works with patients that sing to record their own music on CDs.
Two days per week, a CHOC volunteer reads to young children at their bedside. The stories provide children a temporary escape, while providing caregivers the opportunity to step away and refresh themselves.
Two days per week, a CHOC volunteer visits patients at the bedside in order to provide them with art activities. This is a great opportunity for patients to be creative.
Geek Squad Technology Lending Program
The ability to connect with others and information is helpful for many older patients during hospitalization. The Child Life department's technology lending program offers cameras, camcorders, game systems, webcams AC chargers and laptops for check out to patients and their family members while at the hospital. Patients and families are welcome to bring their own laptops, and we are able to provide access to the hospital's internet via ethernet cord. If needed, an Ethernet cord can be provided for use at the hospital.
Learn more about Geek Squad at CHOC Children's.
School is a normal activity for children and adolescents. CHOC School can offer a familiar routine, address the healthy part of the child's life during their stay and show that they can expect to return to normal events. CHOC School also gives children a chance to be creative and productive while maintaining a sense of identity and hope.
CHOC School's Goals:
Use the hospital stay as a positive event.
Develop an academic plan for all school-age patients, taking into account their medical situation.
Assist parents in setting up home teaching for patients who cannot return to school upon discharge from the hospital.
Programs and Features:
The CHOC School serves patients from kindergarten through twelfth grade. Children with special needs can be enrolled in the school program at three years of age.
The program operates five days a week, 9 months out of the year following a traditional school calendar.
Parents are encouraged to bring books and schoolwork from their school or home teacher. Should schoolwork not be available, appropriate grade-level work will be provided.
Our teachers maintain records of attendance and progress, which can be sent to the patient's school upon request.
Individual bedside tutoring is provided for those patients who cannot attend school in the classroom.
Staff:
The CHOC School is staffed by a dedicated credential teacher and highly qualified instruction aid from the Orange Unified School District. In addition to providing formal schooling, they provide educational support and developmental activities to the patients. As members of the patient's care team, they consult with other professionals involved in the patient's care.
Please contact Doris Stein with the Orange Unified School District at (714) 509-8567 or dstein@choc.org with questions about a patient's specific educational needs.
Social workers, specially attuned to the needs of cancer patients and with bilingual capabilities, help families address a variety of challenges. They meet with families at the time of diagnosis and work with them throughout the course of treatment, providing emotional support and continuous contact. In addition to offering supportive counseling and information on a variety of support groups, our social workers are able to link families with community resources for emotional and financial, support. They help facilitate the completion of forms, arrange for housing close to the hospital if necessary (including stays in the Ronald McDonald House), coordinate transportation to and from the hospital, navigate the financial paperwork and address any work issues that parents are facing.
All new patients are immediately paired with a pediatric oncology nurse coordinator who serves as an advocate for the child and family throughout the patient's course of treatment. The coordinator serves as a guide to navigating conferences with physicians and medical staff, facilitating appointments, and ensuring seamless care between inpatient and outpatient services. The nurse coordinator also assists during the discharge planning process as well as providing patient education and other family support as needed.
The psychological issues patients and families deal with when coping with cancer can be overwhelming. The Cancer Institute has a dedicated psychology team who works closely with patients and families to help them cope with the emotional and psychological stress of cancer. Psychologists provide an initial consultation when the patient first meets with the Cancer Institute team and provides assessments throughout the patient's hospitalization. Psychology services are then available as needed for patients, parents and siblings. The psychology team assesses and treats such issues as depression, anxiety, phobias (to medical procedures), anger, sleep difficulties, loss and grief and behavioral problems.
A chaplain is available to offer patients and their families support throughout their treatment. The chaplain is available for prayer or meditation and can help sort out feelings of fear, loneliness, anger and loss.
Dietary Services staff members meet with children and their families when a child is first admitted to the hospital and conduct a thorough nutritional evaluation. Our dieticians will also conduct a secondary screening to determine if the patient is at nutritional risk. The goal of Dietary Services is to optimize a patient's nutrition status, which helps ensure they will tolerate their cancer treatments better and recover from their illness. Dietary Services work to prevent or correct nutritional deficiencies, minimize treatment side effects, enhance quality of life during treatment, improve the patient's ability to tolerate treatment, help achieve and maintain optimal body weight and teach patients how to incorporate nutrition into a comprehensive follow-up plan. Our team works closely with the physicians to determine special nutritional needs such as internal feeding or gastric tubes. We also closely monitor patients undergoing chemotherapy to ensure they are receiving the proper nutrition.
Patient Education Handbooks
The family of each child who is treated at the Cancer Institute receives a Patient Education Handbook available in English and Spanish. This comprehensive notebook is filled with valuable material, including hospital information, treatment descriptions, laboratory test overviews, home care instructions, signs of illness to look for when the patient returns home, and what to do in an emergency. These handbooks are highly personalized, and customized to the different cancer diagnoses and treatment alternatives. Pages are added as needed and families often carry them wherever they go – from hospitalization to follow-up appointments. The handbook also features a list of important phone numbers.
Our patient backpacks and patient care kits are two resources that help patients and families cope with hospitalization and follow-up care. Upon admission to the hospital, every patient receives a backpack where he or she can store a patient education handbook and other needed supplies. It serves as a wonderful overnight bag and helps keep all of the materials organized. The patient care kits include food, toiletries, phone cards, cafeteria coupons and other items that patients need upon hospitalization.
Complimentary Integrative Medicine
CHOC Children's offers an unparalleled complimentary medicine program. In fact, it is only one of a handful of such programs in the United States. Led by Ruth McCarty, a traditional Chinese medicine practitioner and cofounder of our Complimentary Integrative Medicine program, children are able to receive a variety of complimentary therapies in conjunction with their treatments.
McCarty teams with our physicians to provide patients with therapies that best compliment their current scope of treatment. She is able to offer the Chinese medicine therapies of acupuncture and acupressure, moxibustion, and tui na, as well as herbal treatments. She also works with patients using Japanese Reiki therapy and guided imagery. These complimentary therapies have been show to strengthen immunity; ease stress, anxiety, and pain; and help with loss of appetite.
The complimentary medicine therapies are seamlessly integrated into patients' treatments with constant consultation with their physician. Complimentary medicine is available to patients throughout every step of their treatment. These therapies address the whole mind, body and spirit of the patient and in turn may improve the patient's quality of life.
Alternative therapies have been mainstreamed into almost every department at CHOC Children's. Though suffering from a number of misperceptions, complimentary medicine (also known as "alternative medicine") is a well-defined system of medicine ruled by JCAHO controls and OSHA standards. Working with children as young as newborns, McCarty has treated more than 400 patients. Thanks to the generosity of our donors, complimentary medicine is available to children at CHOC free-of-charge.
Rehabilitation Services Program
Our Rehabilitation Services Program is committed to helping children with cancer reach their potential – physically and socially – and return to home and school as quickly as possible. Using a comprehensive team approach, Rehabilitation Services offers the full array of physical, occupational, speech, hearing, respiratory and recreational therapy for infants, children and teenagers. Due to the debilitating effects of medication and radiation, children with cancer have unique rehabilitation needs. Our therapists work closely with physicians to plan our patients' rehabilitation therapies. Children receive both one-on-one rehabilitation therapy and group therapy.
Student Education And Support Program (
SEAS
)
Upon returning to school after being absent for an extended period of time due to illness, the transition can be difficult and scary. At CHOC we care about making this transition as smooth as possible. We offer school or classroom presentations that:
Help students and teachers understand what the child has experienced and provide opportunities to learn about the illness and the hospital.
Offer the patient the chance to "be the expert" and talk about his or her experience and answer questions (if the child is comfortable doing this).
Clear up misconceptions and rumors as well as encourage classmates to be supportive.
Our child life specialists, who have backgrounds in child development and are certified to work with hospitalized children, give the presentations. Our specialists use age appropriate videos, books, pictures and illustrations geared toward helping students understand their classmate's situation in a non-threatening way. Patients and their families can speak with the case coordinator for more information on SEAS Program support.