Volunteering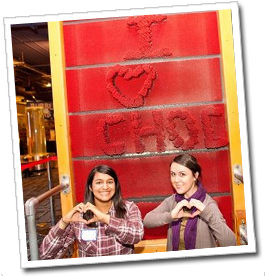 There is no greater reward than being able to help a sick child.
The volunteers at CHOC Children's generously donate their time to help us provide the very best pediatric services in Orange County. For more than 40 years, the volunteer programs at CHOC and CHOC at Mission have provided vital assistance to all hospital departments. In Fall 2011, we were voted "The Best Place to Volunteer" by the Orange County Register!
We currently have a team of over 1000 volunteers who give over 8,000 hours per month. Our program offers many unique opportunities, and we are always looking for enthusiastic, compassionate, energetic, qualified and committed individuals of all ages and backgrounds to join our team. Whether you are motivated by a desire to help out in your community, are looking for exposure to careers in the health care field, or simply want to "give back", you will find your volunteer experience a rewarding and exciting one.
Please use our website as the source for questions on volunteering, as we have included detailed information.


Click here to review our volunteer requirements.
Volunteer Services Department
1201 West La Veta
Orange, CA 92868
Phone: (714) 509-8889
Fax: (714) 509-4527
Email: volunteers@choc.org
Video
VOLUNTEER STORIES

Cynthia
Cynthia's passion for CHOC is evident in everything she does on - and off - the job!

---

Dog Volunteers
Pet therapy dogs play a vital role in the treatment of patients.

---

Maddie
For a teen volunteer, the patients' smiles are her greatest rewards.

---

More Stories