Hyundai Cancer Institute :: Lymphoma Treatment Program
The Lymphoma Treatment Program at the Hyundai Cancer Institute at CHOC Children's is dedicated to providing its patients with the non-Hodgkin lymphoma, Hodgkin lymphoma and recurrent lymphomas with the latest treatments available. Our expert team offers specialized pediatric protocols that are developed at the Cancer Institute and not offered elsewhere. Each treatment is customized to meet the specific needs of the patient while also balancing the social and emotional needs of the patient and family. Treatments are based on the type and stage of the lymphoma, as well as the most current international protocols and research.
Our lymphoma team knows that a cancer diagnosis can be stressful and frightening. Our specialists are dedicated to providing the care, compassion and open communication patients and their families need. As part of their dedication, they make sure that all new patients are seen within 48 hours of being referred by their physician.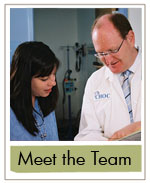 What We Treat
We treat all types of lymphoma:
Hodgkin Lymphoma
Non-Hodgkin Lymphoma

Diffuse Large B Cell Lymphoma
Anaplastic Large Cell Lymphoma
Burkitt Lymphoma
Lymphoblastic Lymphoma
Grey Zone Lymphoma
Lmphomatoid papulosis (or cutaneous T Cell Lymphoma)
Lymphoma Patient and Family Resources
Children's cancers are very different than adult cancers and must be treated with specific pediatric cancer protocols. Our experience in exclusively treating children, teens and young adults makes us the experts in the evaluation and treatment of all forms of common childhood and adolescent cancers. A majority of our protocols come from the Children's Oncology Group (COG), a national organization funded by the National Cancer Institute (NCI). We are the only hospital in the region to offer COG Phase I clinical trials.
Learn more about our clinical trials.