Hyundai Cancer Institute :: Solid Tumor Treatment Program
The Solid Tumor Treatment Program at the Hyundai Cancer Institute at CHOC Children's is dedicated to providing patients with compassionate, family-centered care utilizing the most advanced treatments. Our team carefully balances the need for aggressive treatment with the need to provide patients with the highest quality of life both during and after cancer treatment. To accomplish this, our specialists work with patients, their families and the Cancer Institute Tumor Board to make decisions that are the most appropriate for treatment and keep long-term impact as minimal as possible. Our oncology experts partner with gifted specialty surgeons, including a pediatric urology surgeon, a gynecological oncology surgeon and renowned orthopedic and robotics surgeons.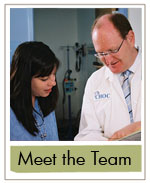 What We Treat
The Solid Tumor Treatment Program at CHOC Children's treats all solid tumors including but not limited to:
Neuroblastoma
Germ Cell Tumors
Hepatoblastoma
Wilm's Tumor
Solid Tumor Cancer Patient and Family Resources
We understand that a cancer diagnosis is overwhelming. To make the treatment process a little less confusing, the Solid Tumor Treatment Program has put together a list of
frequently asked questions
and answers
to make the process a little easier to discuss with family and friends.
Children's cancers are very different than adult cancers and must be treated with specific pediatric cancer protocols. Our experience in exclusively treating children, teens and young adults makes us the experts in the evaluation and treatment of all forms of common childhood and adolescent cancers. We are dedicated to administering the very latest pediatric cancer treatment options. A majority of our protocols come from the Children's Oncology Group (COG), a national organization funded by the National Cancer Institute (NCI). Our relationship with the COG makes us the only medical center in the southwestern United States offering COG Phase I clinical trials.
Learn more about the clinical trials available at the Cancer Institute.