Hyundai Cancer Institute :: Palliative Care Program
The Hyundai Cancer Institute's Palliative Care Program provides physical, emotional, social and spiritual care for our patients. These services do not provide a cure, but focus on improving patients' quality of life by including expert pain and symptom management, and if necessary, end-of-life care.
The Cancer Institute Palliative Care Program provides patients with a multidisciplinary team specially trained to work with children diagnosed with life-threatening illnesses.
We strive to meet the needs of our patients and their families throughout their journey. We can refer patients to our Rainbow Rooms (palliative care rooms in the hematology/oncology unit) and a meditation room. With our knowledge of community resources, we help identify home care services, including hospice if needed.
Our associates anticipate what resources families and patients may need and strive to have them in place when they become necessary.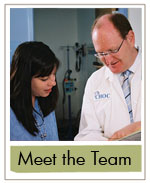 The Palliative Care Services are provided by specially-trained doctors, nurses, case coordinators, social workers, psychologists and a Chinese medicine practitioner and pain team. Together, team members help to identify the unique needs of patients and families dealing with life-threatening illnesses and find the resources they need. Learn more about the incredible support services offered at the Cancer Institute.