Hyundai Cancer Institute :: Meet Dr. Sender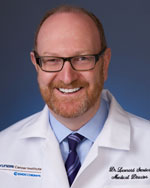 Leonard S. Sender, M.D. is the Hyundai Cancer Institute at CHOC Children's medical director. He received his medical education in South Africa at the University of Witwatersrand in Johannesburg and completed his pediatrics internship and residency at the University of California, Irvine (UC Irvine) Medical Center in Orange and did hematology/oncology subspecialty training included the Children's Hospital of Los Angeles (CHLA). Dr. Sender is board certified both in pediatrics and pediatric hematology/oncology.
The Cancer Institute treats more than 70 percent of the children diagnosed with cancer in Orange County and boasts higher survival rates than the national average among children's hospitals. The program is approved by the American College of Surgeons' Commission on Cancer, one of only 17 children's hospitals in the country to receive this distinction.
Dr. Sender wants to do even better. As one of the few pediatric-trained oncologists in the nation who also works with adults, Dr. Sender serves on the Adolescent and Young Adult Committee for Children's Oncology Group, a cooperative group whose purpose is the study of childhood and adolescent cancer. He is also editor-in-chief of the Journal of Adolescent and Young Adult Oncology.
"Although I trained primarily as a pediatric oncologist, I have spent the last 15 years working with both children and adults. I realized years ago that there was a group of patients between the ages of 15 and 30 that weren't being treated properly," Dr. Sender says. "We are working to have more of these clinical trials. We will help our patient navigate through this process and get the best therapy possible."
"For me, there is nothing worse than thinking there may be an adolescent out there who is not getting the best possible care. We know what we are doing, and we can treat these patients according to the best protocols available for their specific types of cancer," he says. "When families come to CHOC, they are getting the best. They may get second opinions elsewhere in the country, but there will be no better therapy or better compassionate care anywhere else. That is what drives me."
Check out Dr. Sender's other, cooler profile
here
.