Hyundai Cancer Institute :: The Hospital Experience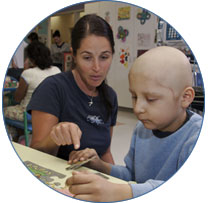 At CHOC Children's, we understand that the hospital can be a scary, unpredictable place and that children better cope with hospital stays when they trust the hospital staff and feel safe. Our associates build positive relationships with patients and their families while keeping the overall atmosphere calm and child friendly. We do everything possible to make our hospital a home away from home during inpatient treatment.
Prior to a child's admission or beginning outpatient services, families will have the opportunity to tour the Hyundai Cancer Institute at CHOC Children's. Caregivers can ask questions and meet staff members. Our Child Life department conducts special tours hat allow our patients to learn about the hospital and see the rooms and equipment used by our staff.
Once admitted, primary caregivers have 24-hour visitation privileges to see their children, and one caregiver can stay over night at the patient's bedside. We do everything possible to make everyone, not just the patient, as comfortable as possible by providing cots, sleep chairs, blankets and other comforts as available. We want our patients and their family members to feel at home while at CHOC, so never hesitate to let us know of any special requests.
Learn more about our in-hospital amenities for patients and families.
When Home Is Far Away
Our social workers are able to assist patients' families who live far away from CHOC with temporary housing. The Ronald McDonald House is located only minutes away, as are a number of other local apartments and other lodging options.
When It's Time to Leave the Hospital
Throughout treatment and recovery, our case coordinators work hard to ensure that patients and their families have everything they need to concentrate on what is most important: the ability to focus on the patient getting well. Before patients are discharged, coordinators make all of the necessary home care arrangements, including home health care nurse visits if necessary. We also make sure that patients' follow-up appointments are already scheduled and that prescriptions have been provided. Caregivers receive education about taking care of central lines and other vascular access devices and explicit instructions on signs of possible illness. Caregivers are always welcome to call the Cancer Institute at any time with medical questions. We have a doctor on call 24 hours a day, 7 days a week.