Dr. Vijay Dhar, Division Chief, Neonatology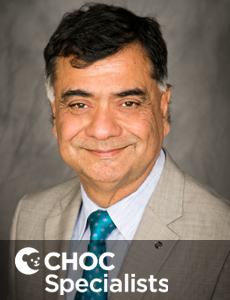 ---
Vijay Dhar MD

Office: 714-509-4373
Specialty: Neonatology
Board Certified: Neonatal Perinatal Medicine, Pediatrics
Dr. Dhar specializes in neonatal critical care, with particular interests in cytokines, nitric oxide, extracorporeal membrane oxygenation (ECMO) and high-frequency oscillating ventilation (HFOV) performed at CHOC.
On the forefront of innovative treatments, Dr. Dhar participates in numerous research studies. As the principal investigator in the NICU Tracheal Aspirate Study, Dr. Dhar and his associates evaluate tracheal aspirate leptin and parathyroid hormone-related protein levels in predicting the development of bronchopulmonary dysplasia.
Driven with a passion for better outcomes for neonates and children, Dr. Dhar worked in the multicenter National Children's study which examines the effects of the environment, as broadly defined to include factors such as air, water, diet, sound, family dynamics, community and cultural influences, and genetics on the growth, development, and health of children from before birth until age 21 years. The goal of the study is to improve the health and well-being of children and contribute to understanding the role various factors have on health and disease.
Dedicated to clinical excellence, Dr. Dhar is board certified in pediatrics and neonatology. Prior to joining CHOC, Dr. Dhar attended medical school at the Postgraduate Institute of Medical Education and Research in Chandigarh, India. He served his pediatric internship and residency at All India Institute of Medical Sciences in Chandigarh, and Gauhati Medical College in Gauhati. Dr. Dhar completed his fellowship training at the Hospital for Sick Children in Toronto and UC Irvine Medical Center in Orange County.
Highly regarded in his field, Dr. Dhar was voted as one of Orange County's Top Doctors in consecutive years and has been recognized as a Physician of Excellence by the Orange County Medical Association over 10 years.
Research Focus
Evaluating tracheal aspirate leptin and parathyroid hormone-related protein levels in predicting the development of bronchopulmonary dysplasia
Vijay Dhar MD is on staff at CHOC Hospital in Orange and CHOC Mission Hospital.
Locations
CHOC Hospital
1201 W. La Veta Ave.
Orange, CA 92868
CHOC at Mission Hospital
27700 Medical Center Rd. 5th Floor
Mission Viejo, CA 92691
St. Jude Medical Center
101 E. Valencia Mesa Dr.
Fullerton, CA 92835
Orange County Global Center
1001 N. Tustin Ave.
Santa Ana, CA 92705
Hoag Memorial Presbyterian Hospital
One Hoag Dr.
Newport Beach, CA 92663
Administrative Appointments
Division Chief, Neonatology
CHOC Specialists/UCI
Current President, Pediatrics Subspecialty Faculty
Current President, Orange County Medical Association
Director, Inpatient Network Development
CHOC Specialists
Education
Chief/Senior Residency
All India Institute of Medical Sciences, New Delhi, India
Fellowship – Neonatal
University of California, Irvine
Fellowship
The Hospital for Sick Children, Toronto, Canada
Registrar Pediatrics
Royal College of Physicians, London, United Kingdom
Residency
Postgraduate Institute of Medical Education and Research, Chandigarh, India
Honors and Awards
Physician of Excellence
OCMA, Multiple years
Professional Organizations
California Association of Neonatologists
Publications
1. Birth Tourism and Neonatal Intensive Care: A Children's Hospital Experience. Mikhael M, Cleary JP, Dhar V, Chen Y, Nguyen DV, Chang AC.
Am J Perinatol. 2016 Dec;33(14):1415-1419. Epub 2016 May 16. PMID: 27183000
2. A Multidisciplinary Quality Improvement Approach Increases Breastmilk Availability at Discharge from the Neonatal Intensive Care Unit for the Very-Low-Birth-Weight Infant. Bixby C, Baker-Fox C, Deming C, Dhar V, Steele C.
Breastfeed Med. 2016 Mar;11(2):75-9. doi: 10.1089/bfm.2015.0141. Epub 2016 Feb 22.
3. Long-Range Optical Coherence Tomography of the Neonatal Upper Airway for Early Diagnosis of Intubation-related Subglottic Injury. Sharma GK, Ahuja GS, Wiedmann M, Osann KE, Su E, Heidari AE, Jing JC, Qu Y, Lazarow F, Wang A, Chou L, Uy CC, Dhar V, Cleary JP, Pham N, Huoh K, Chen Z, Wong BJ. Am J Respir Crit Care Med. 2015 Dec 15;192(12):1504-13. doi: 10.1164/rccm.201501-0053OC. PMID: 26214043
4. Randomized trial of occlusive wrap for heat loss prevention in preterm infants. Reilly MC, Vohra S, Rac VE, Dunn M, Ferrelli K, Kiss A, Vincer M, Wimmer J, Zayack D, Soll RF; Vermont Oxford Network Heat Loss Prevention (HeLP) Trial Study Group. J Pediatr. 2015 Feb;166(2):262-8.e2. doi: 10.1016/j.jpeds.2014.09.068. Epub 2014 Nov 12. PMID: 25449224
5. Comparison of sprinting vs non-sprinting to wean nasal continuous positive airway pressure off in very preterm infants. Eze N, Murphy D, Dhar V, Rehan VK.
J Perinatol. 2018 Feb;38(2):164-168. doi: 10.1038/jp.2017.161. Epub 2017 Oct 26. PMID: 29072676
Dhar V, Perlman M, Cutz E. Autopsy in Neonatal Intensive Care Units, Utilization Patterns and Associations of Clinicopatholoic Discorances; Journal of Pediatrics 1998; 132: 75-9
Dhar V, Hallman M, Bry K. Interleukin-1 Alpha Upregulates, the Expression of Surfactant Protein A in Rabbit Lung Explants; Biology of the Neonate: 1997; 71: 46-52
Rationale and Potential Use of Cytokines in Prevention and Treatment of Neonatal Sepsis, Clinics in Perinatology, 1998; 25-3: 699-710
Co-investigator in an ICMR funded project, Project No. 3/1/2/29(232)78-RB, entitled Comparative Study of Schick Test and Indirect Hamagglutination Test for Diphtheria in Children .
Co-investigator in the National Perinatal Epidemiology Unit (UK) OSIRIS Surfactant Trial 1990: Open Study of Infants at High Risk of or with Respiratory Insufficiency " the role of Surfactant.
Paper entitled Immune Status of Children and Response to D.P.T. Vaccination, Published in Indian Journal of Pediatrics, vol. 49:501, 1982
Paper entitled Plasmapheresis in Acute Guillian Barre Syndrome , Indian Journal of Pediatrics vol. 20:867, 1983
Paper entitled Cockington Normogram as a Guide to Phototherapy in the Management of Neonatal Hyperbilirubinemia "Evaluation of Indian Neonates , Indian Pediatrics vol. 21:229, 1984
Paper entitled Seip Lawrence Syndrome , Indian Journal of Pediatrics vol. 49:881, 1982
Paper entitled Relactation with Metochlorpropomide , Published in Indian Pediatrics
Epidemiological Survey on the prevalence of Gr. A Streptoccal Vulvovaginitis in Children in a large health district at Romford, United Kingdom
Research Focus
Evaluating tracheal aspirate leptin and parathyroid hormone-related protein levels in predicting the development of bronchopulmonary dysplasia
Our neonatologists commonly treat the following conditions in newborns and babies:
Apnea
Bradycardia
Bronchopulmonary dysplasia (BPD)
Heart valve abnormalities
Hypoglycemia
Intrauterine growth restriction (IUGR)
Intraventricular hemorrhage (IVH)
Jaundice
Macrosomia
Persistent pulmonary hypertension of the newborn (PPHN)
Pneumonia
Respiratory distress syndrome (RDS)
Retinopathy of prematurity (ROP)
Sepsis
Septal defects
Trouble keeping warm
Videos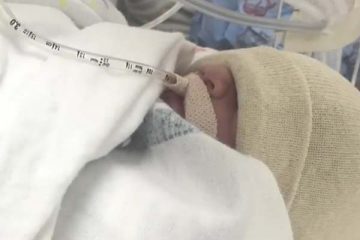 Nathan's NICU Journey
Katie and Jason Gladding planned to deliver their son Nathan at home. Instead, he came 10 weeks early and fought to survive. He needed a level of care that only CHOC provides.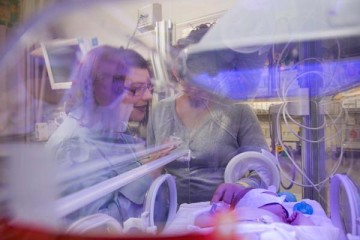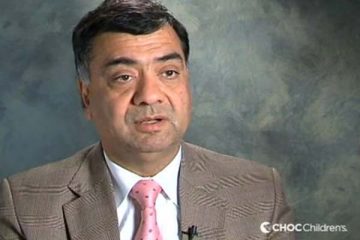 Cooling Cap System: Dr. Dhar
In this segment from American Health Journal, Dr. Vijay Dhar, CHOC, explains the life saving technology of the cooling cap system.