Dr. Daniel D. Saesim, Neonatology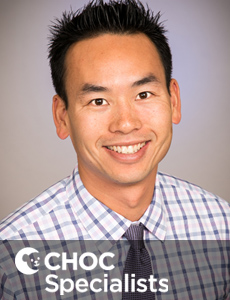 Dr. Daniel Saesim is board certified in pediatrics and neonatal-perinatal medicine. He attended medical school, completed his residency training and served his fellowship at Loma Linda University School of Medicine.
During fellowship, Dr. Saesim's research areas of interest included prevention of retinopathy of prematurity in neonates and hypoxic ischemic encephalopathy. Currently he enjoys participating in quality improvement projects in the NICU.
He has lived and worked in the Inland Empire since 2003. He has been active in and continues to enjoy being a part of the expansion and growth in this area. He is currently the Medical Director of Parkview Community Hospital NICU. Dr. Saesim is also an assistant clinical professor at UC Irvine.
"Neonatology is an ever changing field and we must continue to tweak our practice to ensure that we are providing the best care to our babies." – Dr. Saesim
Locations
CHOC Hospital
1201 W La Veta
Orange, CA 92868
Parkview Community Hospital
3865 Jackson St.
Riverside, CA 92503
Pomona Valley Hospital
1798 N. Garey Ave.
Pomona, CA 91767
St. Jude Medical Center
101 E. Valencia Mesa Dr.
Fullerton, CA 92835
St. Mary Medical Center
1050 Linden Ave.
Long Beach, CA 90813
Education
Medical School
Loma Linda University School of Medicine, Loma Linda, CA
Pediatrics Residency
Loma Linda University Medical Center, Loma Linda, CA
Neonatology Fellowship
Loma Linda University Medical Center, Loma Linda, CA
Administrative Appointments
Neonatology, CHOC Specialists
Academic Appointments
Assistant Clinical Professor, University of California, Irvine, School of Medicine
Our neonatologists commonly treat the following conditions in newborns and babies:
Apnea
Bradycardia
Bronchopulmonary dysplasia (BPD)
Heart valve abnormalities
Hypoglycemia
Intrauterine growth restriction (IUGR)
Intraventricular hemorrhage (IVH)
Jaundice
Macrosomia
Persistent pulmonary hypertension of the newborn (PPHN)
Pneumonia
Respiratory distress syndrome (RDS)
Retinopathy of prematurity (ROP)
Sepsis
Septal defects
Trouble keeping warm
Daniel D Saesim MD

Office: 714-509-4373
Specialty: Neonatology
Board Certified: Pediatrics, Neonatal-Perinatal Medicine
On Staff at: CHOC Children's Hospital