Dr. Amir H. Ashrafi, Neonatology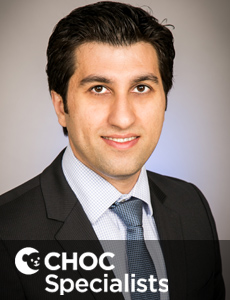 ---
Amir H Ashrafi MD

Office: 714-509-4373
Specialty: Neonatology
Board Certified: Neonatal-Perinatal Medicine
As an expert in neonatology and neonatal-cardiac physiology, Dr. Ashrafi's primary focus is treating newborns with congenital heart disease. He holds the national distinction of being one of the few physicians to receive formal training in both neonatal intensive care and cardiac intensive care.
Dr. Ashrafi is the co-founder of the conference NeoHeart: Cardiovascular Management of the Neonate which is an international collaboration dedicated to advancing the care of newborns with complex heart disease..
Dr. Ashrafi attended medical school at the University of Utah and completed pediatric residency training at the Emory University in Atlanta. He spent time in the Emergency Dept at Children's Hospital of Los Angeles prior to completing his neonatal intensive care fellowship at UCLA, where he was recognized as the chief fellow. Dr. Ashrafi then completed a second fellowship in cardiac intensive care in Boston Children's Hospital at Harvard University.
Research Focus
Neonatal-cardiac physiology, non-invasive tissue perfusion monitoring, neurodevelopment outcomes in infants with congenital heart disease, targeted neonatal echocardiography
Amir H Ashrafi MD is on staff at CHOC Hospital in Orange and CHOC Mission Hospital.
Locations
CHOC Hospital
1201 W. La Veta Avenue
Orange, CA 92868
CHOC at Mission Hospital
27700 Medical Center Road
Mission Viejo, CA 92691
Education
Fellowship, Cardiac Intensive Care
Boston Children's Hospital, Boston, MA
Fellowship, Neonatal Intensive Care
UCLA Medical Center, Los Angeles, CA
Medical School
University of Utah School of Medicine, Salt Lake City, UT
Residency, Pediatrics
Emory University, Atlanta, GA
Administrative Appointments
Neonatology, CHOC Specialists
Honors and Awards
Western Society for Clinical Investigation Research Award
Western Regional Meeting
Publications
1. Left ventricular cardiac output is a reliable predictor of extracorporeal life support in neonates with congenital diaphragmatic hernia. Gaffar S, Ellini AR, Ahmad I, Chen Y, Ashrafi AH.
J Perinatol. 2019 May;39(5):648-653. doi: 10.1038/s41372-019-0348-3. Epub 2019 Mar 5. PMID: 30837654
2. Management strategies for the preemie ductus.
Ashrafi AH, Levy VY.
Curr Opin Cardiol. 2019 Jan;34(1):41-45. doi: 10.1097/HCO.0000000000000580. PMID: 30394907
3. Effect of pump type on outcomes in neonates with congenital diaphragmatic hernia requiring ECMO. Delaplain PT, Zhang L, Nguyen DV, Ashrafi AH, Yu PT, Di Nardo M, Chen Y, Starr J, Ford HR, Guner, YS. Perfusion. 2018 May;33(1_suppl):71-79. doi: 10.1177/0267659118766729. PMID: 29788843
4. Can We Confidently Define "Normal" for Our Neonatal Patients? Ashrafi AH, Lai WW.
J Am Soc Echocardiogr. 2017 Mar;30(3):233-234. doi: 10.1016/j.echo.2017.01.006. PMID: 28259303
Lectures and Presentations
6th Annual Neuro-ICU symposium at UCLA: Discussing the important gaps in knowledge for brain injury in the neonatal population
UCLA: Division of Neurosurgery and Division of Neonatology
Arrythmogenic Right Ventricular Dysplasia
Art and Science of Neonatal Intubation
Pediatric Resident Noon Lecture: UCLA, Division of Neonatology
Arteriovenous Malformations and High-Output Heart Failure in the Neonate
Cardiothoracic Medical-Surgical Case Review
Boston Children's Hospital, Dept of Cardiology and Dept of Cardiothoracic Surg
Cerebral Near Infrared Spectroscopy in Neonates with Congenital Heart Disease
Cerebral Near Infrared Spectroscopy in Neonates with Congenital Heart Disease
Neonatal Journal Club: UCLA, Division of Neonatology
How will the NICU look in 25 years?
Medical Outreach, Kern Medical Center NICU Quality Improvement for 2011
UCLA and Kern Medical Center
Neonatal Echocardiography: Just for the Pediatric Cardiologist?
Pathophysiology and Clinical Management of Neonatal Intraventricular and Cerebral Hemorrhage
Pediatric Intensive Care Unit (PICU) monthly conference: UCLA
Pediatric EKG Interpretation
Resident Noon Conference: USC, Children's Hospital Los Angeles
Persistent Pulmonary Hypertension (PPHN) in the Neonate
Restrictive Right Ventricular Physiology Following Surgical Repair of Tetralogy of Fallot
Restrictive Right Ventricular Physiology Following Surgical Repair of Tetralogy of Fallot
CICU Journal Club: Boston Children's Hospital, Dept of Cardiology
Shock: Inotropes and Vasopressors in the Neonate
Shock: Inotropes and Vasopressors in the Neonate
Annual UCLA Neonatal Nursing Skills Day: 4 Part Series
Tetralogy of Fallot Interactive Teaching Module
Boston Children's Hospital, Dept of Cardiology
To Feed or Not to Feed? Necrotizing Enterocolitis in Neonates with Congenital Heart Disease
Research Focus
Neonatal-cardiac physiology, non-invasive tissue perfusion monitoring, neurodevelopment outcomes in infants with congenital heart disease, targeted neonatal echocardiography
Our neonatologists commonly treat the following conditions in newborns and babies:
Apnea
Bradycardia
Bronchopulmonary dysplasia (BPD)
Heart valve abnormalities
Hypoglycemia
Intrauterine growth restriction (IUGR)
Intraventricular hemorrhage (IVH)
Jaundice
Macrosomia
Persistent pulmonary hypertension of the newborn (PPHN)
Pneumonia
Respiratory distress syndrome (RDS)
Retinopathy of prematurity (ROP)
Sepsis
Septal defects
Trouble keeping warm
Videos