Deep Brain Stimulation (DBS) Surgery in Children
Uncontrolled movements can be painful and disruptive to a child's life. Deep brain stimulation (DBS) may offer lasting relief for many children who experience abnormal movements.
CHOC offers DBS surgery for children with movement disorders of all degrees, including very complex cases. We are one of the only centers in the world to use a three-stage approach that allows us to better target the right areas of the brain, without the need to wake a child during surgery.
What is Deep Brain Stimulation?
Deep brain stimulation, or DBS, is a surgical treatment for uncontrolled movements. It involves the placement of electrodes in the brain and wires that connect to a stimulator device, called an implantable pulse generator (IPG), implanted in the chest. The device is like a pacemaker; it sends impulses to the electrodes that tell the brain to stop or minimize uncontrolled movements throughout the body.
The deep brain stimulation systems consist of three parts: the electrodes, the extension and the IPG. The electrodes are made of insulated wire and are implanted in the brain. The extension is an insulated wire placed under the skin to connect the electrodes to the IPG. The IPG, or battery pack, is implanted under the skin and is programmed to send stimulation signals according to every individual's needs.
While many centers place six electrodes in the brain, our specialized team places up to 12 electrodes, when needed, to target more areas of the brain for a better outcome.
How does a deep brain stimulator work?
A deep brain stimulator works by producing nerve impulses to regulate the abnormal activity in the brain that is causing uncontrolled movements. The electrodes in the stimulator device are precisely placed into the brain site(s) that carries the abnormal nerve signals. Then the programmed high frequency stimulation will alter these abnormal signals, or block them from occurring altogether, leading to symptom improvement. The location of electrode placement varies based on the illness being treated.
Why does my child need DBS surgery?
Children as young as 4 years old may be candidates for DBS surgery at CHOC. DBS can be used to treat uncontrolled movements that are caused by:
Chorea
Tremors
Tourette syndrome
What Happens During DBS Surgery?
Before DBS surgery
Before your child has DBS surgery, tests will be done to determine whether your child is likely to benefit from DBS and to identify the points in your child's brain where the electrodes should go. These tests include:
The day of DBS surgery
Your child's surgery will take place in a state-of-the-art operating room at CHOC, which includes the latest StealthStation S8 navigation system for safer, more precise procedures and the ROSA 3D-mapping robotic system that aids surgeons in locating the exact areas to operate.
Everything at our surgical center is tailored to kids, including our pediatric-trained staff, customized equipment and special guidelines including anesthesia and pain management. We also have child life specialists at the bedside, to reduce a child's anxiety, help them understand the hospital, and provide distraction and pain management techniques.
Learn more about DBS surgery at CHOC.
During DBS surgery
Depending on your child's condition, DBS surgery may occur in two or three stages. Your child's doctor will partner with you to decide which procedure is best for your child.
Two-stage DBS surgery
Traditional DBS surgery involves two procedures.
In the first surgery, two minimally invasive holes are created in the skull and electrodes are then placed inside. During surgery, your child is woken from the anesthesia. The surgeon then stimulates the brain in different areas, to see which areas control your child's involuntary movements. Though this may be uncomfortable for your child, it is not painful. After the electrodes are placed in the correct areas of the brain, your child recovers from surgery in the pediatric intensive care unit (PICU).
A second outpatient surgery is performed later to place a pacemaker-like device under the skin, near the chest. A wire is placed under the skin to connect the stimulator device to the electrodes in the brain.
Three-stage DBS surgery
CHOC offers a unique three-stage form of DBS surgery that does not require your child to be awake during surgery. When needed, three-stage DBS surgery allows our surgeons to be more precise with electrode placement, for a better success rate. Because of this, CHOC is one of only a few centers in the world able to treat secondary dystonia and other complex forms of movement disorders.
During the first surgery, temporary electrodes are placed inside the brain. After surgery, your child will stay in the hospital for approximately one week while the electrodes are tested. You may start to see effects of the stimulation during this time, and your child's doctor will work with you to decide which placements appear to have the best effect. The temporary electrodes are removed at the end of the week before your child leaves the hospital.
Your child then has a second surgery about two weeks later to place permanent electrodes.
About one to two weeks later, a third outpatient surgery is performed to place a pacemaker-like device under the skin, near the chest. A wire is placed under the skin to connect the stimulator device to the electrodes in the brain.
After DBS surgery
CT scan
After the electrodes are placed, a CT scan may be performed during or immediately after surgery. This test is done to make sure the electrodes have been placed accurately. Learn more about having a CT scan at CHOC.
Activating the stimulator device
The stimulator is turned on when it is first implanted but at very low settings. The settings will be adjusted at a follow-up appointment with your doctor a couple of weeks after surgery. Your doctor can program the device from outside your child's body by using a special remote control. The amount of stimulation is customized to your child's needs.
What are the Risks and Side Effects of Deep Brain Stimulation?
Risks of DBS surgery may include:
Misplacement of lead
Bleeding in the brain
Stroke
Infection
Breathing problems
Nausea
Heart problems
Seizure
Side effects of deep brain stimulation may include:
Seizure
Infection
Headache
Confusion
Difficulty concentrating
Stroke
Hardware problems, such as an eroded lead wire
Temporary pain and swelling
What is the long-term outlook for a child after DBS surgery?
The long-term outlook for a child after DBS surgery depends on your child's condition and other factors. In the months following surgery, many children experience reduction in uncontrolled movements. DBS is not a cure, but it may help lessen symptoms. In some cases, medications may still be needed. It is important to talk with your child's doctor before surgery about how much improvement you can expect for your child.
Your child will likely use deep brain stimulation throughout their lifetime. Our neurologists provide regular follow-up care to make sure the device is working correctly. We also may adjust the device settings to meet your child's changing needs. Future surgeries may be needed to replace the electrodes or battery.
Frequently Asked Questions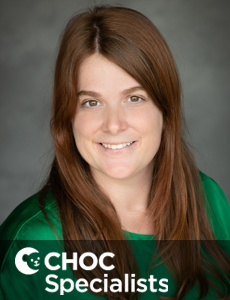 Specialty: Neurology

Jennifer MacLean is a nurse practitioner and is a member of the CHOC Specialists who treats kids and teens in Orange County.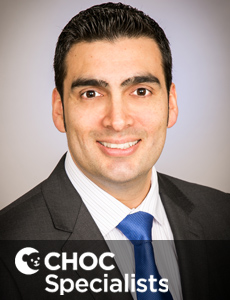 Specialty: Neurosurgery
Appointments: 714-509-7070

Dr. Joffre Olaya specializes in neurosurgery. He sees kids and teens at CHOC Hospital in Orange and CHOC at Mission Hospital.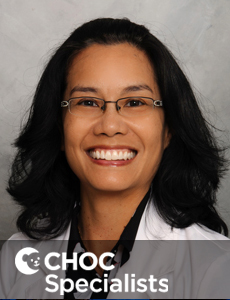 Specialty: Neurology
Office: 714-509-7601

Dr. Allison Przekop is board certified in child neurology and treats kids and teens in Orange County.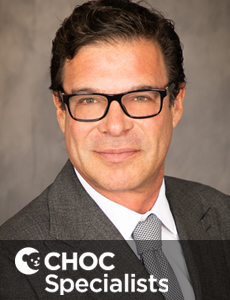 Specialty: Neurology
Appointments: 888-770-2462
Office: 714-509-7601

Dr. Sanger is board certified in child neurology and treats kids and teens in Orange County.