Surgery at CHOC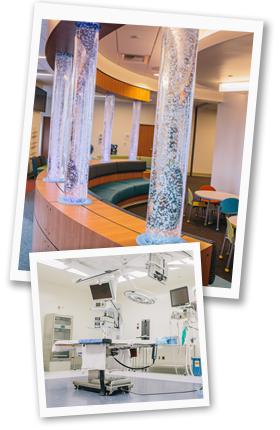 At CHOC Children's, we understand that selecting where a patient will receive surgery is a big decision.
There's no place like the Tidwell Procedure Center at CHOC Children's. We specialize in providing our patients—from infants to young adults—with the most state-of-the-art surgical services in our compassionate, family-centered environment. We are the only children's hospital in Orange County specializing in treating childhood diseases and congenital birth defects. Our pediatric-trained team of surgeons, anesthesiologists, radiologists and other specialists offer the latest surgical treatments, utilizing state-of-the-art equipment. Through the use of the latest technology, we're able to provide our patients with the most accurate diagnoses and innovative treatments available.
When a child needs a surgery, that child's needs are very different than those of an adult patient needing the same or similar procedure. At CHOC, we have specialized in pediatric surgery since we welcomed our first patients in 1964. Our experience in exclusively treating children, teens and young adults makes us the experts in pediatric surgery. In fact, our expertise has made us a top transport hospital for pediatric patients in Orange County and ranked us within the top 50 pediatric hospitals in eight different categories according to U.S. News and World Report.
In addition to being experts in the latest surgical methods for pediatric patients, we are dedicated to providing efficient, compassionate patient- and family-centered care. At CHOC, it is important that our patients still feel and act like kids while dealing with the adult issues of surgery and that their families get the support they need to focus on what is most important: patient recovery.
State-of-the-art surgical specialty programs
Our expertise is second to none. The specialists at CHOC are known for offering the latest surgical procedures by nationally recognized surgeons with the latest equipment for all pediatric patients—including the use of minimally invasive and robotic surgical methods.
World-class care
Our physicians and other health care professionals are all specially trained to work with pediatric patients. We are proud to offer patients:
We are always by your side
We are by your side every step of the way with detailed information, guides and videos detailing what patients and their families can expect while at CHOC. Learn more about preparing for a surgery or procedure at CHOC.
Once at CHOC, we are committed to continually communicating with patients and their families so that they understand what is happening every step of the way during their time in the Procedure Center . Our knowledgable nurses and skilled surgeons and anesthisologists are dedicated to making sure that each patient's family is provided with the most accurate information throughout the surgical process.
Photos

Video
News and Announcements

Pressroom
|

Press Release Archive
Articles From the Blog
Celebrate Doctor's Day – Dr. Michael Muhonen
Fri, 29 Mar 2013 19:52:17 GMT


In honor of Doctor's Day - March 30th –  we've been highlighting some of our doctors throughout the month of March! Check out this video with Dr. Muhonen, Medical Director of the CHOC Children's Neuroscience Institute and Director of Neurosurgery, who shares what he is most excited about in The Bill Holmes Tower at CHOC Children's. Thank

The post Celebrate Doctor's Day – Dr. Michael Muhonen appeared first on CHOC Children's Blog.



One For the Books
Wed, 02 Jan 2013 05:21:03 GMT


"Your baby has no kidneys." That's what Nicola and Clifford Vazquez were told when a prenatal ultrasound showed an abnormal mass where their baby's kidneys should be. Just halfway through the pregnancy, they were also told that their baby would die shortly after birth. they were devastated. The Vazquezes decided to get a second opinion, which ultimately led them to CHOC children's pediatric urologist Antoine Khoury, M.D. He saw things differently.

The post One For the Books appeared first on CHOC Children's Blog.



Fully Wired for Patient Safety
Thu, 29 Nov 2012 20:34:24 GMT


All hospitals must take proactive steps to reduce the risk for possible human errors that lead to medical mistakes. But at CHOC Children's, early investment in health information technology has undoubtedly improved patient care and saved lives. The opening of our new South Tower next spring will further demonstrate the possibilities of health information technology.

The post Fully Wired for Patient Safety appeared first on CHOC Children's Blog.



Visit our Blog for the most recent articles from the experts at CHOC Children's