Dr. Daniel C. Jaffurs, Plastic Surgery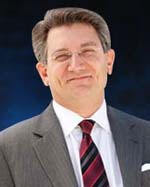 ---
Daniel C Jaffurs MD, PhD

Appointments:
888-770-2462
Office: 714-456-5253
Specialty: Plastic Surgery
Board Certified: Plastic Surgery
A recognized expert in craniofacial surgery and facial reconstruction, Dr. Jaffurs serves as the medical director of plastic surgery and craniofacial services and chair of plastic surgery at CHOC. He is keenly interested in pediatric plastic surgery, treatment of cleft lip and palate, and researching the genetic causes of craniofacial abnormalities. He has special interest in utilizing the technique of distraction osteogenesis for the treatment of various congenital defects.
Dr. Jaffurs obtained his undergraduate degree in biochemistry at the University of New Hampshire. While in college, he became interested in research and molecular biology. He attended the University of Pittsburgh where he received both his medical degree and a PhD in molecular genetics.
Following medical school he completed full general surgery training at the Guthrie Clinic in Sayre, PA, where he received numerous accolades for teaching. He is the only surgical resident ever to have received three Arnold P. Gold Humanism and Excellence in Teaching Awards. His plastic surgery training was completed at the University of Oklahoma which was followed by an additional fellowship in craniofacial surgery at the Medical College of Wisconsin and Children's Hospital of Wisconsin.
Dr. Jaffurs is a member of numerous professional organizations, widely published and has presented papers in a variety of topics in both clinical and basic science at national meetings.
Clinical Interests
Cleft/Craniofacial Surgery
Daniel C Jaffurs MD, PhD is on staff at CHOC Hospital in Orange .
Locations
CHOC Clinic
1201 W. La Veta Ave. Building: CHOC Clinic
Orange, California 92868
phone: 888-770-2462
fax: 855-246-2329
Aesthetic and Plastic Surgery Institute
200 S Manchester, #650
Orange, CA 92868
Education
Craniofacial and Pediatric Plastic Surgery Fellowship
Medical College of Wisconsin, Milwaukee
General Surgery Residency
Guthrie Clinic/Robert Packer Hospital, Sayre, PA
Medical School
University of Pittsburgh, PA
Plastic Surgery Fellowship
University of Oklahoma, Oklahoma City
Administrative Appointments
Chair, Plastic Surgery, CHOC
Medical Director, Plastic Surgery and Craniofacial Services, CHOC
Vice Chair, Department of Surgery, CHOC
Lectures and Presentations
Cleft Lip and Palate Surgery for Parents
Complications from Radiation Dosage in Head CT Scans
Issues in Pediatric Wound Care
Pediatric CT Scans of the Head: Actual Dosage vs. Estimated Risk
Pediatric Wounds and Pressure Ulcers
Skin Grafts
Treatment of Pediatric Wounds with Skin Grafts and Flaps
When to Call a Pediatric Surgeon
Professional Organizations
American Cleft Palate – Craniofacial Association
American Society of Craniofacial Surgery
American Society of Maxillofacial Surgery
AOCMF
Publications
Kosins, A.M., Kohan, E., Shajan, J., Jaffurs, D., With, G., Paydar, K. (2010) Fixation of the media canthal tendon usinf the Mitek anchor system. Journal of Plastic and Reconstructive Surgery 126(6):309e-310e.
Jaffurs, D., Denny, A.D. (2009) Diagnostic Pediatric Computed Tomographic CT Scans of the Head: Actual Dosage versus Estimated Risk. Journal of Plastic and Reconstructive Surgery 124(4):1254-1260.
Scholz, T., Krichevsky, A., Sumarto, A., JAffurs, D.,Wirth, G.A., Paydar, K., Evans, G.R. (2009) Peripheral Nerve Injuries: An International Survey of Current Treatments and Future Perspectives. Journal of reconstructive microsurgery.
Videos
Cleft Palate & Lip: Dr. Jaffurs
Dr. Daniel Jaffurs, CHOC, tells us about the possible causes the birth defect cleft palate and what can be done to correct it.