Dr. Mehrdad Jalili, Pediatric Critical Care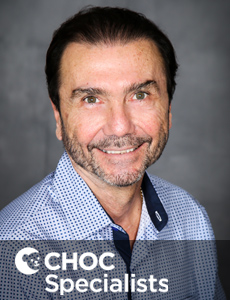 ---
Mehrdad Jalili MD

Appointments:
714-509-8620
Specialty: Critical Care
Board Certified: Pediatrics, Pediatric Critical Care
Dedicated to clinical excellence, Dr. Jalili is board certified in general pediatrics and pediatric critical care Medicine. He is on staff at CHOC Hospital in Orange and CHOC at Mission Hospital, and associate clinical professor and director of the PICU, pediatrics at the UC Irvine School of Medicine. Dr. Jalili has received the OC Physician of Excellence award.
On the forefront of innovative research, Dr. Mehrdad Jalili is involved in a multi-center study of patients with adult respiratory distress syndrome. In this type of respiratory failure, which has a high incidence of mortality and morbidity, two types of ventilator strategies are being evaluated, hoping to reduce some of the ill effects of conventional respirators.
In additional research, Dr. Jalili is in the process of setting up a protocol for using Heliox (a mixture of oxygen and helium) in severe asthmatics who are not responding to conventional treatment. This gas reduces the complications of severe asthma.
Mehrdad Jalili MD is on staff at CHOC Hospital in Orange and CHOC Mission Hospital.
Location
CHOC Specialists, Critical Care
1201 W. La Veta Ave.
Orange, California 92868
phone: 714-509-8620
fax: 714-509-4072
Education
Medical School
University of Isfahan, Isfahan, Iran
Residency
Tehran Children's Hospital
Fellowship
Memorial Miller Children's Hospital of Long Beach
University of California, Irvine and UCLA
Administrative Appointments
Critical Care, CHOC Specialists
Academic Appointments
Division Chief, Critical Care
UC Irvine School of Medicine
Honors and Awards
Physician of Excellence, Orange County Medical Association
Professional Organizations
American Academy of Pediatrics
American College of Chest Physicians
Society of Critical Care
American Medical Association
American Thoracic Society