How Much Water Should Kids Drink?
Water is one of the most important parts of any diet. Our bodies need water for basic chemical reactions to take place. When we don't drink enough water, our bodies can't function at their best. As dehydration sets in, so does fatigue. In the hot summer months, water is important to the body's cooling system.
Why do we need to drink water?
When our bodies heat up—because of a hot day or because of physical activity, for instance—the brain alerts the sweat glands to produce sweat. The body cools itself by the evaporation of sweat from the skin. If dehydrated, the body can't sweat enough to stay cool. Water is essential in keeping bowel movements regular and helping to prevent conditions such as urinary tract infections and kidney stones.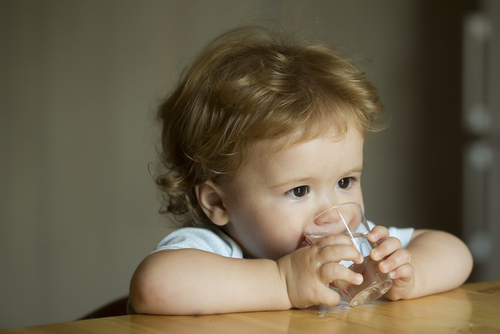 How Much Water to Drink a Day?
At CHOC, we recommend that children drink the amounts of water below according to their age. It is important to note that children should drink the number of 8 ounce cups of water equal to their age, with a maximum of 64 ounces of water for children over the age of 8. These amounts do not include other beverages they may consume in a day such as milk and juice.
Age in years

Number of 8 oz cups

1

1

2

2

3

3

4

4

5

5

6

6

7

7

8

8

9 and older

8

Eight 8 oz cups = 2 Liters