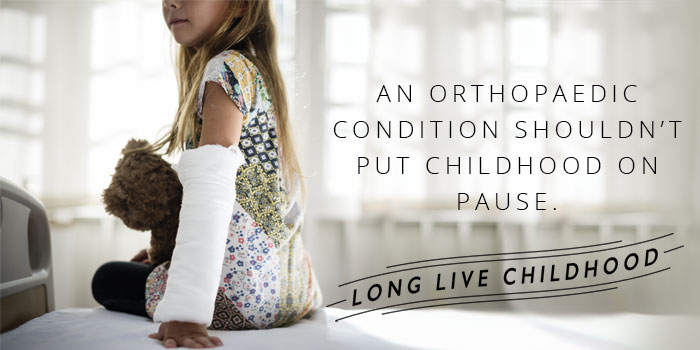 CHOC Orthopaedic Institute
As a parent, you are the ultimate protector of your child, and you want the best possible medical care when your child has been diagnosed with an orthopaedic condition. The problem is, managing your child's condition can be overwhelming and you don't know where to start. We understand how scary this must be.
The CHOC Orthopaedic Institute is a dedicated place for kids. Our team of board-certified specialists—including pediatric orthopaedic surgeons and sports medicine specialists—and orthopaedics-trained staff provide a full spectrum of care for disorders of the bones, joints, ligaments, tendons and muscles. We provide coordinated care for a seamless experience, innovative programs and specialized treatments, and pediatric expertise, equipment and facilities. So you can rest assured you are getting your child the best possible medical care and feel like the protector that you are.
Making Sure Kids Grow into Healthy Adults
Children especially are prone to orthopaedic conditions and injuries because their bodies are in a constant state of growth. We understand that children are still growing and require specially trained experts with experience treating their unique needs. Whether it's a broken bone, scoliosis, a sports injury or a developmental disorder, we're here to help kids grow into healthy adults.
Our clinical and support staff is specially trained to care for children from infants to adolescents. Our team includes orthopaedic surgeons, physical and occupational therapists, physiatrists, neurosurgeons and neurologists, rheumatologists, pulmonologists, cardiologists, nurses and nurse practitioners, physician assistants and orthopaedic technicians.
What We Treat
While we evaluate, treat and manage all forms of orthopaedic conditions, our specialty programs in the following areas are what set the Orthopaedic Institute apart.
Patient- and Family-Centered Care
Because we are committed to family-centered care, we carefully consider the physical, mental and emotional needs of each patient and family. Our care teams are tightly integrated to make the experience seamless, whether it's coordinating inpatient and outpatient visits, communicating with a child's referring physician, or making sure patients and their families fully understand every option available to them. We offer the most comprehensive child life and family support programs in the region. Learn more about patient- and family-centered care at CHOC.
Innovative Programs, Specialized Expertise
The CHOC Difference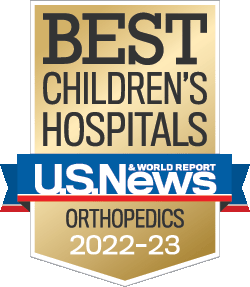 Contact the Orthopaedic Institute
To make an appointment for any of the services at the CHOC Orthopaedic Institute, please call 888-770-2462 or contact one of our locations below.