Clinical Nursing Research at CHOC
Research is the creation of new knowledge and/or the validation of existing knowledge through the use of systematic and rigorous methods (qualitative, quantitative/mixed).   Nurses are ideally positioned to design, develop, and conduct research on patient and caregiver interventions, protocols and processes. Learn about nursing careers at CHOC.
Nursing Research and Innovation Council (NRIC)
The purpose of this shared governance council is to promote the integration of evidence-based practice, research, and innovation into practice, and facilitate nurse involvement in related activities across the organization.  Our mission is to engage nurses in these activities and sustain a culture of inquiry that improves patient outcomes at CHOC.
Nursing Research Fellowship (NRF) Program
The Nursing Research Fellowship program was first introduced in our organization in 2005 and over the past 12 years, we have successfully graduated 25 Research Fellows. This program resulted in multiple national presentations as well as peer-reviewed publications and has been instrumental in developing internal expertise.  This program has been generously supported by the Walden and Jean Young Shaw Foundation.
Nursing Research Associate (NRA) Training Program
The NRA training program provides a meaningful and relatable approach to empower nurses, at all levels, to participate in multidisciplinary research. This innovative, new program increases participation, re-engages nurses, and generates excitement and awareness. Nurses today enter the workforce with different levels of knowledge and exposure to research activities. The NRA offers a gradation of participation opportunities- meeting learners where they are at. Participants attend didactic classes on research design and concepts; ethical conduct and vulnerable populations; organization specific processes and policies; as well as hands-on training with a clinical research coordinator. NRAs complete a minimum of 20 hours per year of research-related activities such as consenting, or data collection/entry.  This program is currently supported by the Walden and Jean Young Shaw Foundation.
Nurse Scientist
CHOC employs a full-time doctoral-prepared nurse scientist who functions to develop and maintain a supportive infrastructure; acquire necessary resources, and mentor nurses on project formation, execution, and outcome dissemination.  This position is funded, in part, by a grant from West Coast University.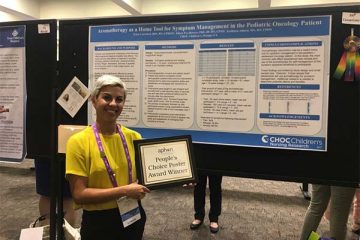 Spotlight on CHOC Nursing Research
Erica Crawford, BSN, RN, CPHON;  Eileen Fry-Bowers, PhD, JD, RN, CPNP;  Kathleen Adlard, MN, RN, CPON  recently presented a poster at the Association of Pediatric -Hematology/Oncology Nurses Conference, August 17-19, 2017 in Palm Springs, CA.  Aromatherapy as a Home Tool for Symptom Management in the Pediatric Oncology Patient. This poster won the People's Choice Award!
Karen DeAnda,  BSN, RN, CPHON;  Eileen Fry-Bowers, PhD, JD, RN, CPNP;  Kathleen Adlard, MN, RN, CPON poster abstract was accepted for presentation at the Center to Advance Palliative Care (CAPC) national seminar, November 9–11, 2017 in Phoenix, AZ.  Pediatric Nurses' Knowledge, Beliefs, Practices and Perceived Barriers to Pediatric Palliative Care across Institutional Settings.
Learn about our research programs at CHOC's Research Institute.