CHOC Children's Publications
Kid's Health (Archive)


Our award-winning Kid's Health Magazine is designed to provide healthful information for your growing child. Please Note: Kid's Health Magazine is no longer being printed. Please visit our blog at http://www.choc.org/blog for the latest articles about your child's health from the experts at CHOC Children's. You can also receive our electronic Kid's Health newsletter in your inbox by subscribing to our mailing list: http://www.choc.org/subscribe
Go to the Magazine Archive
Go to the Blog
Subscribe
---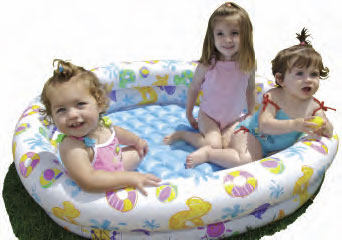 Children Need Constant Supervision Around Water

Drowning is a leading cause of unintentional injury-related death in children ages 0 to 4. It is a silent event that tragically claims an average of eight Orange County children every year.

It happens quickly, too. Children younger than age 4 can lose consciousness in 30 seconds or less. Within four to six minutes brain damage can occur.

"Young children can drown in just a few inches of water," says Michelle Feczko, CHOC Health and Wellness Coordinator. "Their bodies are top heavy, so they can't get out if they fall head-first into a toilet, bathtub, bucket or ice chest. Never leave a child alone around water— not even for a moment to answer the phone or the door."

LAYERS OF PROTECTION BUY YOU TIME
Invest in fencing, gates, locks, alarms and covers for pools and spas.
Install locks and alarms on all doors and windows leading into the pool area.
Latch the toilet seat, and limit your child's access to the bathroom.
Empty buckets and ice chests as soon as you're finished with them.
Never leave your child alone in the bathtub.
Learn infant/child CPR and be ready to use it if necessary.
Feczko says swimming lessons are not a substitute for constant adult supervision. The American Academy of Pediatrics states that "generally, children are not developmentally ready for swimming lessons until after their fourth birthday."

"Young children reach developmental milestones on a daily, sometimes hourly basis," Feczko warns. "Parents may not realize a child can unlock a door or pool gate—until after the child actually does it."

For more information about community programs, resources and vendors who manufacture safety devices, please call CHOC Community Education at (714) 532-8887. You may also download safety tipsheets by visiting www.choc.org. Just click on "Community Education."