CHOC Children's Publications
CHOC Children's Annual Report


Everyone in Orange County is somehow connected to CHOC Children's. If it's not your own children that have been treated by our team of pediatric experts, chances are you know a few that have. Among friends, neighbors, coworkers, even people we encounter in our daily travels—CHOC is a common bond we all share. In this report, you will learn about some of our finest moments.

---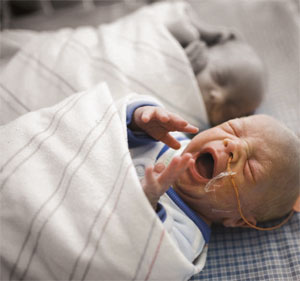 CHOC Children's at Mission Hospital - Building Momentum
CHOC Mission Plans $2.5 Million NICU Expansion
The number of low birth-weight babies treated in the CHOC Children's at Mission Hospital Neonatal Intensive Care Unit (NICU) rose 8.3 percent each year between 2003 and 2008, and the overall demand for neonatal intensive care is forecasted to increase at least 3.5 percent annually in the coming years. To meet these demands, the CHOC Mission NICU is planning a $2.5 million expansion to open in July 2012.
This expansion will add six new individual rooms, increasing the number of patient beds from 16 to 22. Two additional rooms are planned as "shelled space" in anticipation of future needs.
The rising demand for neonatal care is attributed to demographics. South Orange County mothers tend to be older and experience multiple births, as well as premature deliveries, which increases the need for neonatal intensive care.
NICU to Study "Preemie" Infant Massage
Could infant massage using traditional Chinese techniques improve the growth and development of premature babies, ultimately leading to earlier discharge and improved neurodevelopmental outcomes? CHOC neonatologist Irfan Ahmad, M.D., and co-investigators at the CHOC Mission NICU are embarking on a double-blind randomized study to find out.
The clinical study is designed for infants born before 33 weeks of gestation and weighing at least 1,000 grams. Selected infants will enroll in the study upon reaching the "corrected age" of 33 weeks.
Infants will be measured for weight, length and head circumference during the NICU stay. Additional assessments will include feeding readiness, length of hospital stay and developmental outcomes. These infants will be re-evaluated at 6, 12 and 18 months to determine whether the results are sustained.
CHOC Mission Leads in Physician Satisfaction
Our physicians demand the very best, and CHOC Mission has retained the healthcare industry's leading marketing research organization to make sure their expectations are well met.
The latest results show our physicians are indeed quite pleased. CHOC Mission has once again received five-star ratings — the highest award possible — in several categories, including emergency services, patient safety, nursing care, hospitalist, anesthesiology and pathology.
Of the 371 facilities in the Professional Research Consultants, Inc., 2009 Physician Study database, CHOC Mission is one of only 18 to receive eight or more five-star awards.
Child Life Expands Emergency Department Coverage
Patient satisfaction scores have increased since Child Life Services expanded the scope of services provided inside the Mission Hospital Emergency Department. Additional staffing has been added during peak hours in the late evening and early morning. The waiting area is stocked with a new large-screen television, expanded DVD selection, PlayStation® and video games.
Special care packets containing small toys, coloring books and crayons ensure there is always something relaxing and comforting for small hands to do. And because Mission Hospital is a regional trauma center, our Child Life specialists play an important role in helping children cope when a family member is admitted. Our team can emotionally support children in situations where a loved one has sustained a critical injury, or worse. The team evaluates each child's unique needs, and works with him or her to reduce the stress that accompanies such a frightening experience.
CHOC Nurses never forget
Each name evokes a memory of a brief, shining life. our NICU nurses never forget the children they cared for or the parents with whom they bonded so closely. every year, they lovingly arrange an annual life remembrance for all NICU families who have experienced the death of a child. Our nurses do this because they understand grief is a journey without time limits. "many times parents think people have forgotten about their child," said va Esmaeili, R.N., who helps coordinate the annual event. "They want to talk about their child and share the good memories, but people around them are often afraid to bring it up. the annual life remembrance allows them to do this."