CHOC Children's Publications
Kid's Health (Archive)


Our award-winning Kid's Health Magazine is designed to provide healthful information for your growing child. Please Note: Kid's Health Magazine is no longer being printed. Please visit our blog at http://www.choc.org/blog for the latest articles about your child's health from the experts at CHOC Children's. You can also receive our electronic Kid's Health newsletter in your inbox by subscribing to our mailing list: http://www.choc.org/subscribe

---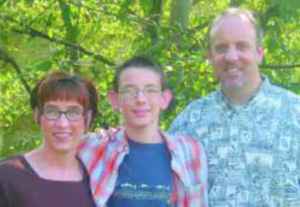 When In Doubt, Come Straight To CHOC

Craig and Chrissy Conners have some advice for other parents considering health plan options during open enrollment: First, make sure the plan offers CHOC or CHOC at Mission. Then know which one of the two hospitals you're closest to and how to get there in an emergency. They learned just how important this is last July, when their son Camron, 13, was sent home ill from church camp.

At first, it seemed Camron had a nasty case of food poisoning. The next day, Craig took him to an urgent care center just to be sure it wasn't appendicitis. Although Camron wasn't showing the classic symptoms of appendicitis, he was thoroughly examined for it. He was sent home with the diagnosis of food poisoning.

Two days later, Camron wasn't showing any signs of improvement. He couldn't eat, sleep or even get comfortable. Finally, Craig and Chrissy looked at each other and said, "This has gone on too long." They loaded Camron into the car and drove to a local hospital.

No one knows how Camron was able to walk into that emergency room. A CT scan taken of his abdomen showed a burst appendix and peritonitis, an infection of the membrane lining his abdominal cavity. Realizing Camron was gravely ill, the emergency room physician immediately transferred him to the Pediatric Intensive Care Unit (PICU) at CHOC at Mission.

OUR DOCTORS HAVE SEEN IT ALL

The CHOC at Mission PICU is staffed around the clock with physicians and surgeons who specialize in caring for critically ill or injured children. The multidisciplinary PICU team includes specially trained nurses, respiratory therapists and other healthcare professionals who provide the most highly advanced pediatric care available in Orange County. Every year, about 2,000 patients transfer from other hospitals into the PICU at CHOC or CHOC at Mission.

When Camron arrived, however, the CHOC at Mission PICU physicians and surgeons could not take him into surgery right away because they were not sure his weakened body could withstand anesthesia. Instead, they started him on three antibiotics to combat the infection. Finally, pediatric surgeon David Gibbs, M.D., was able to take Camron into the operating room the next afternoon.

"After his surgery, Dr. Gibbs told us that in 12 years of practice, Camron's case was by far the worst he'd ever seen," Craig recalls. For the next 10 days, while Camron recuperated from surgery, his parents developed quite a rapport with the PICU staff, including Medical Director Gary Goodman, M.D.

"Dr. Goodman was incredible. He stopped by every day, gave us a hug and treated us like family," Chrissy says. "He explained things in such a way that even though he used surgical and medical terms, you could easily follow along. He answered all of our questions."

Camron has fully recovered from his ordeal, but this experience has changed the way Chrissy and Craig evaluate health plans. Before Camron's illness, they never really thought about checking to see which hospitals were offered. From now on, they will always be sure to choose a plan that includes CHOC and CHOC at Mission.