CHOC Children's Publications
Change CHOC, Change the World Campaign Newsletter


CHOC Children's Launches Campaign to Fulfill Destiny of the Hospital

---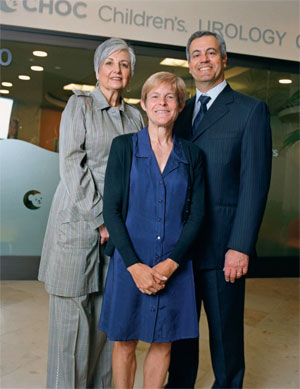 Top Doctors Come to CHOC to Do Revolutionary Work
Major recruitments drive research, advances, and better care
Experts on children's hospitals understand a simple truth: The addition of a single subspecialty physician can make all the difference in the lives of sick children by filling critical gaps in a hospital's capabilities.


Due to the shortage of subspecialty doctors, and the low number of pediatric specialists graduating each year, it's become duly challenging to find good recruits. And it's even more difficult to lure established physicians away from successful practices at major hospitals where they are doing groundbreaking work. Getting one prominent physician is noteworthy; getting two in a short period of time is nearly alchemic and transformative in significance.


This is exactly what happened at CHOC Children's with two recent key recruits who have come to CHOC to do their revolutionary work: widely respected epileptologist Dr. Mary Zupanc, who is the medical director of Child Neurology at CHOC and director of CHOC's Pediatric Epilepsy Program; and world-renowned urologist Dr. Antoine Khoury, the chief of Pediatric Urology at CHOC and the UC Irvine Medical Center.


The successful recruitments were due to the hospital's right mix of ingredients, which is giving CHOC the stature and magnetism to attract top talent, says Dr. Maria Minon, CHOC's vice president of Medical Affairs and chief medical offificer, who was active in the recruitment process. These components—which comprise the core elements of the "Change CHOC, Change the World" campaign—include building facilities that are technologically advanced (the new tower), establishing programs that push forward academic medical research and training of the next generation of doctors (the CHOC–UC Irvine affiliation), and growing endowments that support the critical acquisition of rare subspecialty doctors, and fund innovation.


"Our mission and vision are to give children the best care possible, so we have to attract individuals like Dr. Khoury and Dr. Zupanc. Bringing them here helps make CHOC a destination for the care of children, and it shows the kind of talent CHOC is attracting," says Minon. "These individuals are academics, researchers, and doctors who will be able to train more physicians to provide excellent care and to advance treatments that will help not only the one million children of Orange County but children in the rest of the country and beyond."


Zupanc and Khoury are the ideal "triplethreat" doctors, specialists who excel in clinical environments treating patients, in academic research working toward cures, and in hospitals and medical schools teaching doctors and students. CHOC's affiliation with UC Irvine—which is making major inroads to bring more medical research capacity to CHOC and clinical excellence to UC Irvine—was key in recruiting Zupanc from Children's Hospital of Wisconsin, in Milwaukee, and Khoury from the Hospital for Sick Children in Toronto, Canada.


"I've always been an academic, so the affiliation with UC Irvine was essential for me to make a commitment to come to CHOC. I am, first and foremost, an educator, a clinical researcher, and an academician," says Zupanc. "If I were going to just be in a private-practice setting seeing patient after patient, I would never help to advance the field, and then I would not be successful. We have to come up with new strategies and treatments for children," says Zupanc.


"Now, we have all of UC Irvine open to us, which is the ideal marriage, and that was very appealing to me," says Khoury. "We're building a foundation that will support research and collaboration on the science side. And in doing so, we become the thought leaders."


To this end, both Zupanc and Khoury are heavily involved in research, working closely with UC Irvine's exceptional individuals from engineering, neuroscience, biology, molecular biology, and other sciences. Zupanc's research includes creating innovative ways to treat epilepsy with surgery in children and in testing antiepileptic drugs on tissues removed during surgery to determine if they help the cells function more normally.


"You won't have a premier pediatric epilepsy program without good clinical, basic, and translational research. The commitment to Major recruitments drive research, advances, and better care Two Top Recruiting Wins Just Became Three Joanne P. Starr MD, congenital cardiothoracic surgeon, joins CHOC research is essential to help thrust CHOC into the top tier of children's hospitals. And that will prove invaluable to the children and families of Orange County," says Zupanc.


Khoury is a firm believer in the power of research as well. He's focusing on building replacement bladders by using an intestinal lining sprayed with cells grown on a scaffolding of biomaterials. If human trials are authorized and prove successful, "This could be a major breakthrough and innovation for CHOC," says Khoury. "CHOC would be the first hospital in the world where this work is being done."


Khoury is also engaged in recruiting pediatric urologists and in starting a fellowship program to train more of these specialized doctors. "When good fellows train with physicians of prestige, like Dr. Khoury, they want to hang around their mentor to continue their influential work," says Minon.


Beyond their research, Zupanc and Khoury are actively engaged in building clinical programs based on their visions and vast years of experience—as both had previously built successful programs from the ground up. This was yet another reason why the physicians were intrigued to come to CHOC: They were impressed with CHOC's commitment to build clinical centers of excellence by investing in needed facilities, equipment, and staff, which will give a boost to their practices with new capabilities. With the acquisition of these key physicians, CHOC has driven a stake into the ground to be at the research and clinical forefront of urology and epilepsy. They represent an alignment of what the community needs and what CHOC can deliver, says Minon.


With all of this new development has come great optimism: "I have no doubt that within the next five years that CHOC pediatric urology will be one of the top programs in the nation— and the top program on the West Coast," says Khoury. "There's no question: With the new tower, the CHOC–UC Irvine affiliation and the new state-of-the-art pediatric urology outpatient facility we have now—it's really as good as it gets."