CHOC Children's Publications
Kid's Health (Archive)


Our award-winning Kid's Health Magazine is designed to provide healthful information for your growing child. Please Note: Kid's Health Magazine is no longer being printed. Please visit our blog at http://www.choc.org/blog for the latest articles about your child's health from the experts at CHOC Children's. You can also receive our electronic Kid's Health newsletter in your inbox by subscribing to our mailing list: http://www.choc.org/subscribe

---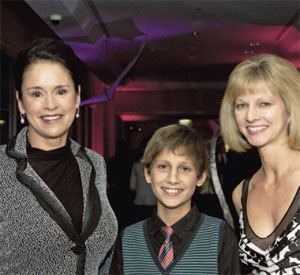 Tommy Conforti Named CHOC Children's Campaign Ambassador

Did you hear our good news? CHOC Children's recently announced 13-year-old cancer patient Tommaso "Tommy" Conforti as the 2011 CHOC Children's Campaign Ambassador.

In his role as Ambassador, Tommy will represent CHOC and share his personal experience at various events, helping to engage the community in the "Change CHOC, Change the World" fundraising campaign. Tommy was selected as one of three finalists through an application process, before securing the community's support, and the most votes, through online voting.

A native of Italy, Tommy was diagnosed with acute lymphatic leukemia (ALL) in August 2005. He was immediately admitted to the hospital. After being cleared for travel and school, Tommy went back to Italy with his family. Following a little more than three years of treatment, he, his mom and sister returned to the United States; this time, settling in Newport Beach so Tommy and his sister could study English.

In November 2008, doctors at CHOC discovered leukemia cells on Tommy's optic nerve. Tommy underwent radiation and chemotherapy. Currently, he is undergoing maintenance treatment, which involves additional chemotherapy.

Thrilled to be representing CHOC as the Campaign Ambassador, Tommy says, "I can't wait to spread the message that CHOC is important in our community. You never know when you may need CHOC. Hopefully you don't, but if you do, they're always there for you."

In his spare time, this charismatic, fun-loving young man enjoys reading, working on his computer and playing with his friends. Tommy is also a great musician. Through CHOC's music therapy program, run by music therapist Eric Mammen, Tommy learned to play the guitar—now a favorite pastime.

ABOUT "CHANGE CHOC, CHANGE THE WORLD"
Launched in spring 2010, the "Change CHOC, Change the World" campaign is a comprehensive fundraising campaign intended to transform the future of CHOC and, with it, the future of Orange County. The campaign will help CHOC to become a sustainable world-class pediatric institution by building a state-of-the-art facility set to open in spring 2013; building a substantial endowment to support recruiting more of the world's top pediatric experts, while continuing to foster an environment of innovation and discovery; and building upon the academic and research affiliation with UC Irvine and its School of Medicine.

To learn more, please visit www.choc.org/giving.