CHOC Children's Publications
Kid's Health (Archive)


Our award-winning Kid's Health Magazine is designed to provide healthful information for your growing child. Please Note: Kid's Health Magazine is no longer being printed. Please visit our blog at http://www.choc.org/blog for the latest articles about your child's health from the experts at CHOC Children's. You can also receive our electronic Kid's Health newsletter in your inbox by subscribing to our mailing list: http://www.choc.org/subscribe

---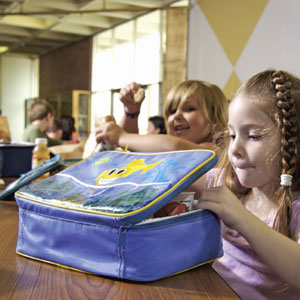 Children's Food Allergies Are On The Rise

If it seems like more children have food allergies these days, it's because they do. Although researchers aren't sure exactly why, food allergies in children have increased by almost 20 percent since 1997. As a parent, it's important to recognize the signs of a food allergy and know the steps to take if your child has an allergic reaction.

When to Look for Food Allergies
"Most kids develop food allergies early, usually within the first few years," says Joshua Gibbs, D.O., CHOC Children's allergist and immunologist. Fortunately, many children eventually outgrow food allergies by school age, even if they have had a severe reaction. Certain foods such as peanut and tree nuts are not likely to be outgrown.

The most common foods that cause allergies in children are:
Eggs
Milk
Peanuts
Tree nuts
Soy
Wheat
Fish/shellfish
According to Dr. Gibbs, children may be allergic to other foods, such as fruits or seeds, but it's less common.

Know the Symptoms
The symptoms of a food allergy can vary from child to child. In most cases, an allergic reaction happens within two hours of ingesting the food. If your child has a reaction to any food, talk with your pediatrician about allergy testing.

Common symptoms include:
Hives or swelling of the skin
Vomiting or nausea
Wheezing
Worsening of underlying eczema
Low blood pressure or shock
The most severe reaction, called anaphylaxis, is when several symptoms happen at once, including swelling of the breathing tubes and low blood pressure. "Food allergies can escalate each time the child is exposed to a food," Dr. Gibbs says. "So the next time the child has that food, the reaction could be more severe." If you think your child is having a severe reaction, seek emergency care immediately.

Preventing Food Allergies
Experts used to advise parents against giving their babies highly allergic foods, such as nuts and eggs, until they were at least 2 or 3 years old. They thought this would help prevent food allergies.

"That recommendation is not really supported anymore," Dr. Gibbs says. "In fact, some specialists now suggest that giving these foods early may actually help prevent food allergies, but so far the evidence is not conclusive either way." If you have food allergies in your family, Dr. Gibbs recommends talking with your pediatrician about when to introduce these foods to your child.

"Until we can find a way to prevent food allergies, we're making great strides in educating people about food allergies and food labeling," Dr. Gibbs says.

He and the other allergists at CHOC are available to diagnose food allergies in children and develop a treatment plan. Usually this involves testing for food allergies, avoiding the allergic food and, in some cases, taking a medication to help treat symptoms.

If you have questions about food allergies or to schedule an appointment with a CHOC allergy/immunology specialist, please call 714-633-6363.

Peanut Allergies: What Parents Need To Know
An allergy to peanuts, like other food allergies, usually develops during a baby's first year. Having a family member with a peanut allergy increases a baby's risk, as does feeding a baby soy formula.

If your child is allergic to peanuts, she also should avoid peanut butter, beer nuts, peanut oil, mandelonas, peanut flour, marzipan and nougat.

About one in five kids outgrows peanut allergies. If that happens, feed your child peanuts or peanut butter at least once a month. A recent study in the Journal of Allergy and Clinical Immunology said this tactic might prevent the allergy from coming back.