CHOC Children's Publications
Kid's Health (Archive)


Our award-winning Kid's Health Magazine is designed to provide healthful information for your growing child. Please Note: Kid's Health Magazine is no longer being printed. Please visit our blog at http://www.choc.org/blog for the latest articles about your child's health from the experts at CHOC Children's. You can also receive our electronic Kid's Health newsletter in your inbox by subscribing to our mailing list: http://www.choc.org/subscribe

---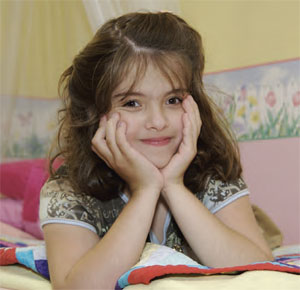 Making a Mark - Faith Langhorn
Faith Doesn't Let Cerebral Palsy Slow Her Down
Due to her prematurity, Faith was immediately placed in the Neonatal Intensive Care Unit (NICU). At 6 days old, Faith stopped breathing. After that, she was under close watch in the NICU for 67 days.
"We were just hanging onto dear life hoping that she'd survive. During that time people would ask me why I was still happy, and I told them I already knew far too well what could happen. I was just grateful she was alive," Azita says.
When Faith's parents were finally able to take her home, she weighed just four pounds. Again, everything seemed fine until her parents noticed that around her first birthday, Faith didn't crawl or roll over, and she favored using one side of her body over the other.
"We started noticing things that didn't seem quite right, so we brought her to the physician who treated her in the NICU. We were shocked when we heard the diagnosis: Faith had cerebral palsy. We had absolutely no idea," Azita recalls. "Then the adventure began."
Cerebral palsy is a number of disorders of the developing brain that affect body movement, posture and muscle coordination. In Faith's case, her feet turned inward and she needed a wheelchair to get around. "We were referred to Dr. Afshin Aminian, medical director of the CHOC Orthopaedic Institute, for Faith's treatment, and were very grateful to have Faith under his care," Azita says.
In the last year, Faith underwent 17 procedures, including two surgeries. To help her walk, Dr. Aminian had to break bones in Faith's legs and feet and reset them, then use screws, which would later be removed, to hold them in place.
Today, Faith attends bi-weekly physical therapy sessions and rides horses at the J. F. Shea Therapeutic Riding Center in San Juan Capistrano, which is dedicated to improving the lives of people with disabilities through therapeutic horse-related programs.
"Faith absolutely loves horseback riding," says Azita. "I don't think she even considers it therapy; just fun. She also enjoys playing soccer, Bocce ball, and golf. Recently she went to day camp and tried surfing. She thought it was great!"
When Faith grows up, she says she wants to be a professional golfer or soccer player, or maybe a musician. "She has very lofty goals," says Azita.
As she should. Faith Langhorn is a very bright, articulate child. After meeting Faith, one cannot imagine that anything could stand in this vibrant young lady's way.