CHOC Children's Publications
Kid's Health (Archive)


Our award-winning Kid's Health Magazine is designed to provide healthful information for your growing child. Please Note: Kid's Health Magazine is no longer being printed. Please visit our blog at http://www.choc.org/blog for the latest articles about your child's health from the experts at CHOC Children's. You can also receive our electronic Kid's Health newsletter in your inbox by subscribing to our mailing list: http://www.choc.org/subscribe

---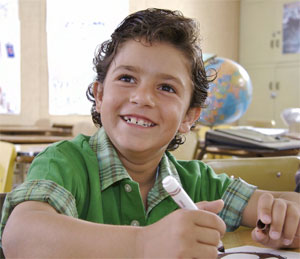 New Law Requires Dental Exam Before Kindergarten

If your little one is heading off to kindergarten soon, add a visit to the dentist to your checklist. A new California law requires a dental exam prior to the first year of public school. The law also applies to children entering public school as first graders.

Tooth decay is the leading chronic disease of childhood and five times more common than asthma. Dental problems are also the leading cause of absenteeism and trips to the school nurse.

"Parents don't always know when there are dental problems because kids don't often complain until tooth decay has reached later stages with toothache or swelling," says pediatric dentist Kevin Hszieh, D.D.S. Dr. Hszieh directs dental services at Healthy Smiles for Kids of Orange County, a non-profit organization dedicated to improving the oral health of Orange County children. Healthy Smiles works with community pediatricians, pediatric dentists and educational institutions to bring dental treatment, advocacy, education and preventive care to medically underserved children.

BABY TEETH ARE VERY IMPORTANT
Serious tooth decay may occur as early as 18 months, causing problems with chewing and the formation of permanent teeth. This is often results from putting young children to bed with bottles of juice or milk. Both the American Academy of Pediatrics and American Academy of Pediatric Dentistry recommend the first dental exam by age 1 or when the first tooth appears.

"We prefer to see children at age 1 or whenever the first tooth erupts so we can meet with the parents and provide education to help prevent or address dental problems early on. We want children to enter school pain-free and ready to learn." Dr. Hszieh says.

Looking for a dentist who works with children? Dr. Hszieh recommends the California Association of Pediatric Dentists at www.cspd.org . Healthy Smiles for Kids of Orange County provides lowcost dental services for children ages 0-17 at the Garden Grove Smile Center. For information, call SmileLineOC at (714) 532-7935.