CHOC Children's Publications
Kid's Health (Archive)


Our award-winning Kid's Health Magazine is designed to provide healthful information for your growing child. Please Note: Kid's Health Magazine is no longer being printed. Please visit our blog at http://www.choc.org/blog for the latest articles about your child's health from the experts at CHOC Children's. You can also receive our electronic Kid's Health newsletter in your inbox by subscribing to our mailing list: http://www.choc.org/subscribe

---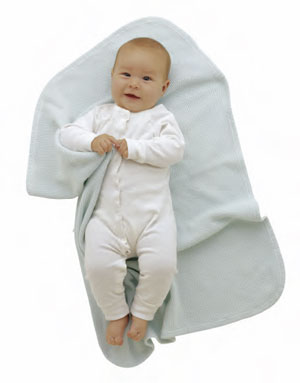 Sleeping with a Newborn is Dangerous

Having an infant in the house gives a whole new meaning to the term "sleep deprivation." The idea of bringing your baby into bed to sleep with you might seem very tempting.
Don't, advises CHOC pediatrician Daniel Mackey, M.D. The risk of rolling over and accidentally suffocating your baby is quite real.
"A couple of years ago, I had a mother in my practice who rolled over onto her baby and suffocated her," Dr. Mackey says. "As a parent, I understand how sleepsharing or co-sleeping sounds like a nice, warm, fuzzy thing to do, but it is dangerous."
Most U.S. hospitals prohibit parents from sharing beds with newborns for this very reason. The American Academy of Pediatrics also warns against it. In addition to rollover hazards, soft bedding, pillows or other objects could cause suffocation by blocking an infant's nose or mouth.
BASSINETS, CO -SLEEPERS ARE SAFER ALTERNATIVES
Dr. Mackey recommends putting a bassinet by the side of your bed, instead of bringing your baby into bed with you. Another option is a "co-sleeper," a small, free-standing crib that is designed to be pulled up next to the bedside. Co-sleepers have a dropped side allowing easy access to your baby without the possibility of a rollover. A "Moses basket," essentially a bassinet without the legs and wheels, may be placed on top of your bed.
When your baby becomes too big for a bassinet, it's time for a crib. You could put it inside your bedroom, but you might want to think twice about that. After all, you need some quiet time with your partner.
"Parents need time alone together to talk, reflect and bond. It is hard to do that with an 8-month-old lying in bed between them," Dr. Mackey advises. "It can be very stressful and straining on a relationship if those boundaries are not established early."
For more information, please contact Daniel Mackey, M.D., at (714) 565-7960.
"Back To Sleep" Helps Prevent Sudden Infant Death Syndrome
Back is best when putting your baby down for a nap or bedtime. Avoid suffocation hazards by clearing everything out of the bassinet or crib except a fitted sheet:
No pillows or stuffed toys
No fluffy sheepskin
No blankets, comforters or quilts.
On chilly nights, try footed-sleepers, sleep sacks or wearable blankets. They provide warmth and easy access for diaper changes.
Using An Older Crib?
Whether it is a garage sale find or a treasured family heirloom, be sure your baby's crib meets current safety codes. The two biggest concerns are lead paint and the spacing between bars. Hint: If a soft drink can fits through the bars, the spacing is too wide. For more details, download our Home Safety Tipsheet at www.choc.org/ community/community_ safetyhome.cfm or our "Home Safety" at www.choc.org/safetyhouse/ index.cfm.