CHOC Children's Publications
Kid's Health (Archive)


Our award-winning Kid's Health Magazine is designed to provide healthful information for your growing child. Please Note: Kid's Health Magazine is no longer being printed. Please visit our blog at http://www.choc.org/blog for the latest articles about your child's health from the experts at CHOC Children's. You can also receive our electronic Kid's Health newsletter in your inbox by subscribing to our mailing list: http://www.choc.org/subscribe

---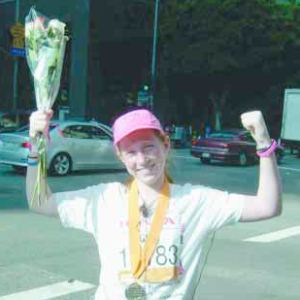 Diabetic Teen Completes Run of Her Life

Every child who comes to CHOC or CHOC at Mission has a compelling story.

Gail Henberger, 13, is one of 100 children and teens, all current or former CHOC patients, who have been profiled as part of our "Making A Mark" campaign. Her profile illustrates the complex world of pediatric medicine, and underscores the capable expertise of our doctors, nurses and hospital staff in providing the most advanced medical care for Orange County's critically ill or injured children.

Gail recently made her mark by completing the Los Angeles Marathon even though she suffers from Type I diabetes, a condition that requires meticulous monitoring of her blood sugar levels. She did it with the help of the endocrine physicians and nurses at CHOC. During the race, Gail tested herself 10 times and drank six ounces of Gatorade after every other mile.

"We are so proud of 'our Gail' and how she accomplishes anything she sets her mind to," says Debbie Warner, CHOC endocrine nurse specialist. "She is truly an inspiration and spreads hope to other diabetics who feel they may be limited."

Since being diagnosed with diabetes three years ago, Gail has been determined to "beat" the disease. She didn't let it hold her back when she tried out for her high school's track and field team. Gail made the team as a high jumper, which requires a lot of running during practices. She also plays soccer.

Gail is equally serious about her role as a diabetes advocate. With her family's support, she raised close to $5,000 for "Walk To Cure Diabetes," which benefited the Juvenile Diabetes Research Foundation. Next year she plans to raise even more funds to go toward diabetes research, as well as to creating a greater public awareness about this disease.

Not surprisingly, Gail has another ambitious goal: to become a doctor. With her track record, we're sure she will.