CHOC Children's Publications
Kid's Health (Archive)


Our award-winning Kid's Health Magazine is designed to provide healthful information for your growing child. Please Note: Kid's Health Magazine is no longer being printed. Please visit our blog at http://www.choc.org/blog for the latest articles about your child's health from the experts at CHOC Children's. You can also receive our electronic Kid's Health newsletter in your inbox by subscribing to our mailing list: http://www.choc.org/subscribe

---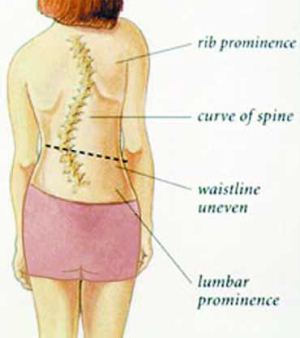 Straight Talk on Scoliosis

It cannot be blamed on heavy backpacks or even slouching over video games. Genetics appear to play a role in the development of the most common form of scoliosis. Fortunately, this condition responds well to early intervention and treatment. So if you know someone in your family has had scoliosis, be sure to tell your pediatrician.

Scoliosis is an abnormal "S-shaped" or "C-shaped" curvature of the spine. According to the Scoliosis Research Society, about 2 percent of the adolescent population, usually girls, has some degree of spinal asymmetry, but only about 25 percent of them will need treatment. For most it does not cause any problems.

Depending on the severity of the curve, observation, bracing or corrective surgery may be recommended. According to CHOC orthopaedic surgeon Afshin Aminian, M.D., treatment is based on several factors, including the child's age, physical development, the degree and pattern of the curve, and type of scoliosis.

"Recent studies have shown that wearing a brace is the most effective treatment for stopping the progression of curves in most children. The newer braces are lighter and less bulky than the old ones and most may be worn invisibly under clothing," Dr. Aminian says. "Minor curves, less than 25 degrees, may only require observation to monitor the condition."

OTHER WAYS TO HELP YOUR CHILD
While bracing is the most effective way of stopping scoliosis, Dr. Aminian also recommends exercise and nutrition to improve overall health.

"Physical therapy, yoga and Pilates exercises strengthen back muscles. While none of these methods have been shown to be effective in stopping the progression of the curves, it is good for kids with spinal curvature to have a strong spine, especially as they get older," Dr. Aminian says.

He says a recent Japanese study showed kids with poor bone density were at higher risk for developing scoliosis. Dr. Aminian recommends daily exercise and the equivalent of four to five cups of milk each day to help build strong bones. Vitamin D, easily obtained from sunshine, also stimulates bone formation.

For more information about scoliosis, please call Dr. Aminian. He may be reached at his Orange or Mission Viejo offices by calling (714) 633-2211 or (949) 600-8800, respectively.