CHOC Children's Publications
Kid's Health (Archive)


Our award-winning Kid's Health Magazine is designed to provide healthful information for your growing child. Please Note: Kid's Health Magazine is no longer being printed. Please visit our blog at http://www.choc.org/blog for the latest articles about your child's health from the experts at CHOC Children's. You can also receive our electronic Kid's Health newsletter in your inbox by subscribing to our mailing list: http://www.choc.org/subscribe

---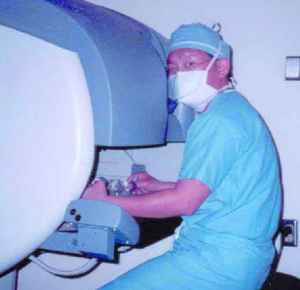 Another CHOC "First" -- Pediatric Robotic Surgery

Once again, CHOC has made history as being the first pediatric hospital in California to offer robotic surgery for children using state-of-the-art Da Vinci robotic surgical system.
Robotic surgery is an exciting advancement over minimally invasive laparoscopic surgery. Like laparoscopic surgery, robotic surgery uses small incisions, less than the diameter of a pencil, to insert three or four robotic arms into the surgical site. One robotic arm is equipped with a tiny camera, while the others are fitted with surgical instruments capable of clamping, dissecting or suturing tissue.

Though the two procedures seem similar, robotic surgery offers distinct advantages, says CHOC pediatric surgeon Vinh Lam, M.D.

"The benefits of robotic surgery are two-fold. First it gives us better visualization through 3D vision. Conventional laparoscopic surgery only offers 2D visualization," Dr. Lam says. "The other advantage is the manipulation of the instruments. With regular laparoscopic equipment, we can only move the devices up and down or to the left and right. The Da Vinci robotic system is designed to mimic the dexterity of the human hand and wrist, so we can manipulate these instruments as if we were holding them our hands."

Because the movements are so much more precise, Dr. Lam says patients experience less trauma to the tissues, which means less pain, fewer potential complications and a shorter recovery time. Dr. Lam and his colleagues, Mustafa Kabeer, M.D., and David Gibbs, M.D., were the first pediatric surgical group on the West Coast to offer these techniques.

"This was a big investment for CHOC to make. I feel privileged that we have the Da Vinci system available for our patients. (The DaVinci robotic surgical system
was actually purchased by St. Joseph
Hospital, an acquisition made possible
through the generous contributions of their
donors. CHOC shares St. Joseph Hospital
operation rooms, and CHOC's pediatric
surgeons have access to this advanced
technology). It keeps us on top with the rest of the world as far as technology goes," Dr. Lam says. "This is why CHOC is the place to come. We have all the specialized equipment and specially trained physicians offering the latest, cutting-edge advances in pediatric healthcare."

For more information about pediatric robotic surgery, please contact Vinh Lam, M.D., Pediatric Surgical Specialties, at (714) 628-8800.