CHOC Children's Publications
Kid's Health (Archive)


Our award-winning Kid's Health Magazine is designed to provide healthful information for your growing child. Please Note: Kid's Health Magazine is no longer being printed. Please visit our blog at http://www.choc.org/blog for the latest articles about your child's health from the experts at CHOC Children's. You can also receive our electronic Kid's Health newsletter in your inbox by subscribing to our mailing list: http://www.choc.org/subscribe

---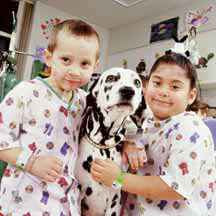 Child Life - Letting CHOC Kids Be Kids

Twice a week, CHOC patients and staff alike eagerly await the arrival of furry, four-legged therapists. These friendly little dogs, small enough to get up on a patient's bed, bring a lot of smiles and joy to CHOC. They help provide a more normal atmosphere for hospitalized children, especially those who miss their own pets.

Pet therapy is just one of the many ways CHOC Child Life creates a sense of normalization under circumstances that are anything but a normal part of childhood. Today, CHOC has 13 certified child life specialists. Each floor has a supervised playroom stocked with all sorts of toys, activities and crafts. Bedside activities and crafts are brought to patients unable to leave their rooms. Various community groups visit regularly to provide drama, dance and art therapy.

There is always something interesting, creative or just plain fun to do.

"Our role in providing play is to make CHOC a fun, child-friendly place as much as possible, given the circumstances. Play promotes optimum growth and development, decreases stress and anxiety, and promotes adaptive coping skills," says CHOC Child Life Manger Elana TenHuisen, M.S., C.C.L.S. "It also offers insights into our patients' concerns and their level of understanding. This is important to us because if a patient has a misperception of what is happening, we want to take the time to correct that perception in terms they can understand."

Why Play Is Important

Playing is what children normally do everyday, which is why play is so important for a hospitalized child's emotional well-being. TenHuisen points out that being able to choose from a variety of recreational activities gives patients the feeling of some control in a situation where choices are often limited. It also fosters creativity, and helps divert patients from the worry and stress of a strange situation. Mastering a game or an art project gives children a sense of accomplishment. The CHOC play rooms also offers socialization opportunities, which is especially important for school-age patients.

Child Life services are available to all hospital patients, as well as children in the emergency room, outpatient surgery center or short-stay inpatient surgery unit. Emotional support is also provided to family members, including siblings.

"Play allows kids to be kids and lets them do what they would be doing if they were not here." TenHuisen says. "On Halloween, patients dress up and go trick or treating through the hospital. During the holidays, we provide a lot of activities and special entertainment. One parent, whose child was diagnosed with cancer in early December, told me that it was all of those activities that got the family through that month because they had other things to enjoy and focus on."

Would You Like To Help?

Become a volunteer. CHOC volunteers help supervise playrooms, assist with crafts and provide one-on-one bedside activities. You must be 16 or older and training is provided.

Donate craft materials or toys. For infection control purposes, toys must be washable plastic instead of cloth. Age-appropriate toys for teens and infants, especially crib mobiles, are always needed.
Donate gift certificates to toy or craft stores. This allows Child Life staff to purchase frequently needed items.

For more information, please contact CHOC Child Life at (714) 532-8473.