CHOC Children's Publications
Kid's Health (Archive)


Our award-winning Kid's Health Magazine is designed to provide healthful information for your growing child. Please Note: Kid's Health Magazine is no longer being printed. Please visit our blog at http://www.choc.org/blog for the latest articles about your child's health from the experts at CHOC Children's. You can also receive our electronic Kid's Health newsletter in your inbox by subscribing to our mailing list: http://www.choc.org/subscribe

---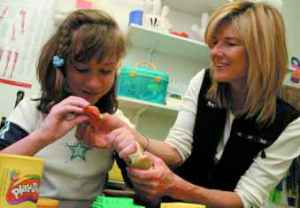 Serious Hand Therapy Disguised As Child's Play

"What shall we do today?" CHOC hand therapist Jeanne Brexa, O.T.R., C.H.T., asked her young patient. "Let's get a snack," the little girl replied. During their trip to the CHOC cafeteria, Brexa assessed how her patient opened doors, handled money, grasped her cup and removed the paper from her straw. When they returned to the CHOC Rehabilitation Center, Brexa used her observations to tailor that day's treatment to the little girl's specific needs. This is just one example of the many creative ways Brexa incorporates everyday activities and play into customized hand therapy. When working with other patients, she might assess how well they use their hands while playing with dolls, toys or Play-Doh.
"CHOC is the ideal setting for pediatric hand therapy because our environment is a 'kids play paradise' built around the interests of children. We have a rock climbing wall, sports equipment and playground equipment, as well as a variety of toys to stimulate imaginary play," says Brexa, who adds she works "hand in glove" with the expertise of the CHOC rehab team of occupational, physical and speech therapists in assessing hand function. "Our kids have fun while they learn!"
Kids' Hands Need That Special Touch
A certified hand therapist is an occupational or physical therapist with advanced training and specialized skills in helping patients regain strength, coordination and function in the hand, wrist, elbow and shoulder. Brexa, an occupational therapist and certified hand therapist, brings more than 21 years of rehabilitation experience to the hand therapy program at the CHOC Rehabilitation Center and the monthly CHOC Hand Clinic. Working in coordination with physicians, she develops treatment plans for pediatric patients of all ages. Brexa recalls the 6-month-old infant who was unable to pick up a toy because his hand was always closed in a tight fist. She fitted the baby with a custom soft splint that allowed his thumb and fingers to open and close around his favorite toy. This custom splint also positioned the rest of the baby's hand to be flat, which was necessary in order for him to learn how to crawl.
Sports-related injuries often benefit from specialized hand therapy. Brexa recently worked with a 12-year-old girl who was unable to bat, throw or catch as a result of injuring her wrist while playing softball. A combination of outpatient therapy and a follow-up exercise program at home allowed the girl to return to the team and participate in the rest of the season.
"Our goal is to help children achieve their functional potential and to build on their skills. For some, it may be holding a toy they could not hold before or reaching for a crayon. These seemingly small things can be huge," Brexa says. "At CHOC, we focus on each child's abilities. We understand that a child is part of a family first, and encourage our parents to celebrate and enjoy this incredible gift they've been given - their child."
When to Consider Hand Therapy CHOC hand therapist Jeanne Brexa, O.T.R., C.H.T., provides hand, wrist, elbow and shoulder rehabilitation for infants, children and adolescents with the following conditions:
Traumatic and sports-related injuries,
Nerve, tendon and muscle disorders,
Central nervous system conditions, including cerebral palsy, closed head injury, spina bifida and spasticity, and
Rheumatoid and osteo arthritis.
"Contact your pediatrician if you notice any kind of hand deformity, or if your child has developed a weakness or loss of mobility in the hands or arms. Another sign to watch for is if your child has difficulty using scissors or tying shoelaces," Brexa advises.