CHOC Children's Publications
Kid's Health (Archive)


Our award-winning Kid's Health Magazine is designed to provide healthful information for your growing child. Please Note: Kid's Health Magazine is no longer being printed. Please visit our blog at http://www.choc.org/blog for the latest articles about your child's health from the experts at CHOC Children's. You can also receive our electronic Kid's Health newsletter in your inbox by subscribing to our mailing list: http://www.choc.org/subscribe

---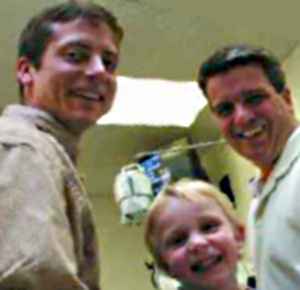 CHOC Patients Depend on Community Blood Donations

"Is there anything we can do?" Family members, friends and coworkers of Sherri and Paul Glidden all wanted to help when 4-year-old Nicole was diagnosed with cancer in April 2002. CHOC Blood and Donor Services provided them with a special opportunity to help Nicole and other critically ill patients at CHOC. Cancer patients like Nicole frequently need blood products because chemotherapy targets healthy cells as well as the cancerous ones, inhibiting the body's ability to produce its own blood cells. Surgery patients, critically ill newborns or patients with blood disorders also require transfusions of whole blood or specific components, such as platelets, white blood cells or red blood cells.
In California, patients have three choices regarding blood products. They may donate their own blood in advance, use blood from a designated donor or use products from a blood bank. The Gliddens opted to set up a designated donor program for Nicole. Then they asked family members, friends and coworkers to visit CHOC Blood and Donor Services for compatibility testing.
Chris Burroughs, the husband of one of the women from Sherri's Moms group was a match. So was Mark Burke, one of the regular donors Sherri met at CHOC Blood and Donor Services. Mark has been regularly donating blood for CHOC patients for the past three years. When he overheard Sherri talking about Nicole, he stepped forward to help.
Nicole ultimately needed transfusions of platelets and whole blood for each of her eight courses of chemotherapy. Chris Burroughs donated the platelets through apheresis, a process in which only platelets are removed from the blood. Mark Burke, Nicole's other designated donor, provided the rest.
"Regardless of whether blood comes from the blood bank or a designated donor program, each donor is screened and tested the same way," says Colleen Casacchia, R.N., manager of CHOC Blood and Donor Services. "Any child receiving treatment at CHOC is eligible to participate in the designated donor program. All blood that is collected on the child's behalf is tagged with that child's name. If it is not compatible, it is released to another child who needs it. No blood ever goes to waste."
Nicole is now in remission from her cancer. Her mother says knowing who was providing blood for her daughter helped ease her mind during a very difficult time.
"When people donate blood at CHOC, they are giving of themselves to help save a child's life," she says. "When you have a healthy child and life is good, you don't think about this. But when we went to CHOC, we saw how many children there were who rely on blood donations. In Nicole's case, it helped save her life."
Help Save a Child's Life
"We rely on donors from the community because we don't have enough donors here at CHOC alone to meet the needs of our patients. There are some children who do not have enough designated donors or whose transfusions needs are so great, they need more than their designated donors can provide," says Colleen Casacchia, R.N., manager of the CHOC Blood Donor Center. "We have donors who have been coming here for 15 or 16 years. Most of these donors are parents, family members and friends who started out as designated donors for their own children or a child they knew. After their children recovered, they kept on donating for other children they did not know because they realize how important this is."

Potential blood donors must:
Be in good health
Be between the ages of 17 and 65 years
Weigh at least 110 pounds
Have no history of hepatitis or AIDS
Have no history of chest pain or cardiac surgery
It's easy, convenient and absolutely painless. Plus, you'll enjoy homemade cookies afterward. For more information or to schedule an appointment, please contact CHOC Blood and Donor Services at (714) 532-8339,